"Santa came early to our house and brought me a Kitchen Aid stand mixer," said Christy Carr Scribner, of Eupora and formerly of Bruce. "It has a pasta maker, ice cream maker and meat grinder and we will have a lot of fun with it."
Her first plans are for Oreo ice cream. And she loves Italian, so some pasta shouldn't be far behind. She also has a Kitchen Aid recipe board on Pinterest, and added that she has "tons of boards."
She loves Cajun and the authentic chowder recipe is from a best friend, whose sister lives in Louisiana. She has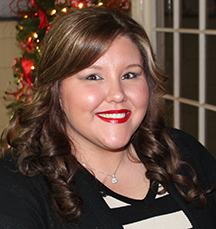 a whole pantry door of spices, because she loves spicy and seasoned food, and onions and garlic. "The more flavor the better," is what she says husband, Christopher, says. His favorite meal is onions, mushrooms and gravy over hamburger steak with mashed potatoes.
They have a garden and love to saute mushrooms, garlic and onions for spaghetti and use the tomatoes they have grown. They also grew spaghetti squash for the first time this year. He enjoys hunting, and cooking on the grill and smoker, and she enjoys experimenting with the "inside cooking."
She always enjoyed helping her mom, Kim Carr, with cooking everything but desserts. She especially likes her mom's cream puffs, chicken and dumplings, and biscuits, but says she can't duplicate the dumplings or biscuits, or her goulash.
Christy's grandmother was Polish and she is anxious to try and make Pierogi, which her sister in Chicago  fixes a lot. Christy and her mom plan to set a date to try this out, but she is not sure which filling she will use.
She recalls helping her mamaw, Billie Sue Caples, make "lots of cakes and pies" for a school fundraiser once when she was BHS mascot, Brutus. She has also cooked with her making chicken and dumplings, and mentioned especially her chocolate pie. Mrs. Caples has mailed Christy a lot of family recipes.
Christy likes the tartness of lemon delight dessert, and sometimes enjoys it for a birthday of one of the ladies she works with at a salon in Starkville, saying that all nine of them there like to share recipes with each other.
Shrimp Chowder
3 sticks of butter
1 bunch of green onions
chopped
2-3 lbs. of cooked shrimp
16 oz. cream cheese
3 cans whole kernel corn,
drained
2 cans cream corn
5 cans cream of potato soup
2-12 oz. cans evaporated milk
Slap Yo Mama's seasoning to
taste
Saute onions with butter. Add all ingredients (creamier ones first) and bring to boil and simmer. Mix well, season with Slap Yo Mama's. Enjoy!
Pierogi
Dough:
5 cups of flour
8 oz. cream cheese
2 eggs
1 tsp. salt
Mix flour, eggs, salt and cream cheese with fingers. Add water to make stiff dough. Place on floured surface and knead until dough isn't sticky. Let set for an hour. Roll on floured surface. Cut out with 1 lb. coffee can. Fill with filling (two options, potato or meat, listed below). Wet dough around edges and seal by pressing with fork. Boil 10-15 minutes. Drain and fry in butter until golden brown.
Potato Filling:
Boil and mix six large potatoes. Chop two large onions really fine and saute in one stick of butter until tender. Pour in potatoes and mix well. Let cool before filling dough.
Meat Filling:
1 lb. hamburger meat, 1 onion chopped, 1/2 cup cracker crumbs, 1 egg, 1 tsp. salt
Mix all ingredients. Make small patties and fry. Let cool and fill the dough.
Lemon Delight
1 bag Jack's vanilla wafers
(finely crushed)
1 cup pecans crushed
1 cup butter melted
Mix together and press in 9×13 dish.
2 cream cheese, softened
1 1/2 cups Cool Whip
1 box confectioners' sugar
Mix well for second layer.
4 egg yolks
2 cans Eagle Brand milk
3/4 cup lemon juice
Beat eggs and lemon juice, then add Eagle Brand. Mix well. Pour over crust. Top with remaining Cool Whip.
(It takes the third layer awhile to set up in fridge, so I make it the night before I need it.)