Payton Chandler is a two-sport athlete at Calhoun City, and even though he has struggled with some injury issues during his senior year, he has bounced back time and time again.
The difficulties that Chandler has faced this season didn't stop his motivation to get back on the court and help Calhoun City basketball and get ready for baseball season.
"I've battled through a couple of different injuries through this season, but I knew I couldn't let those injuries get to me," Chandler said. "Me being a senior made me realize that I had brothers out on the court ready for me to get back, and I had to power through all the pain and lead our team to get to where we need to be for the playoffs."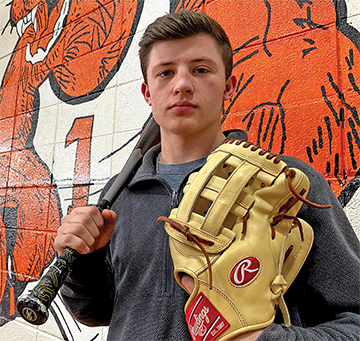 Of course, as is the case with any sports injury, self-care is a must, and Chandler participated in some of that as well.
"I also went through a lot of self-therapy at home to build my body back up and get myself back on track to stay healthy this season," Chandler said.
Chandler has made a lot of pleasant memories in his time at Calhoun City, especially on the basketball court with his head coach Daren Coffey.
"I'd say my favorite part about playing basketball for Calhoun City is the coach that we have that has put his all into me to make me better," Chandler said. "Also, the fans make a big impact on it as well."
A favorite memory in particular involves last season's basketball trip to the nation's capital.
"One of my favorite memories would be traveling to Washington, D.C., with the team and playing in a tournament up there," Chandler said.
Chandler also plays baseball and is expected to be a key component for the Wildcats on the diamond this season. Chandler admits that much of the team around him is young, but he is excited about what this season holds.
"I'm really hoping for us to just come out and have fun," Chandler said. "We are really young this year, so it's going to take some time and some hard work to get to where we need to be, but our coaching staff will get us there."
As a senior on a predominantly young team, Chandler says that his leadership role really began when Calhoun City won the baseball state title in 2019.
"Really, my leadership started the year we came out with the gold glove," Chandler said, "and from then on, it's been a tough road, but it's gotten easier. This year will be a little more difficult, but I will have many kids looking up to me and watching me do things, so I have to be the best person and work hard 24/7 to show the young ones what to do."
Like in basketball, Chandler has a veteran head coach in baseball in Josh Miller, a role model he looks up to in the sport.
"[Coffey and Miller] both coach me in the same way," Chandler said. "They give me freedom, but also if I make a mistake, they will tell me what I'm doing wrong and what I need to do to fix it. They also help me out by giving me the leadership spot and leading my team."
After much consideration, Chandler doesn't plan to play a sport in college, but will attend East Mississippi Community College to major in heating and cooling.