Lisa Denley McNeece, a lifelong newspaperwoman whose love of ink on paper was rivaled only by her dedication to family and to her dogs, died Sunday, Dec. 9, 2018, at her home in Bruce. She was 58.
McNeece worked her entire career at the family newspaper, The Calhoun County Journal, which was founded in 1953 by her grandfather, Sellers Vanhoozer Denley.
McNeece's warmth and good humor, and especially her love of family, friends, and community, was on regular display in her weekly feature, "Purely Personal," a column she took over from her grandfather after his death in 1981.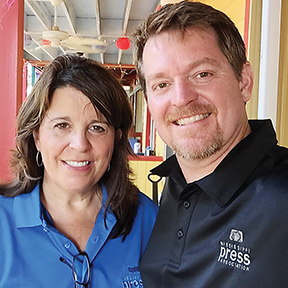 McNeece served as Associate Editor of the Journal. Still a family affair, her husband, Joel, is the paper's publisher. Her sister, Celia Hillhouse, also serves as associate editor.
McNeece, whose first job for the newspaper was rolling and stuffing newspapers when she was a small child, rose through the ranks of the state newspaper industry to become only the third female president of the Mississippi Press Association. She was a past chairman of the MPA Education Foundation, a cause dear to her in its mission to provide scholarships and internships to journalism students at Mississippi institutions of higher learning.
She earned her master's degree in Journalism from the University of Mississippi where she graduated cum laude. McNeece, whose father, S. Gale Denley, was a longtime professor of journalism at Ole Miss and for whom its Student Media Center is named to honor, later taught courses on community journalism and the business of newspapering for her alma mater.
Before entering Ole Miss, she served a brief internship on Capitol Hill serving in congressional offices.
Throughout her four decades in the business, McNeece was honored with scores of awards from MPA for excellence in journalism and advertising. She served as longtime co-host of MPA's Better Newspaper Contest awards show in the 1990s and 2000s.
"She was a brilliant star in MPA's sky," said Association Executive Director Layne Bruce, a lifelong family friend. "She was ever-present within our small group, and it's hard to comprehend the huge void she leaves.
"She was vivacious and a funny, truly wonderful soul. Lisa was loyal to her newspaper and community, and a devoted wife, mother, sister, daughter, and grandmother. Many of her colleagues have remarked over the past couple of days how she had the ability to light up every room she entered."
Much of McNeece's time off-the-clock from the newspaper business was dedicated to her three young grandchildren who reside in Bruce. To the children, their "Nana" was a beloved caregiver and friend.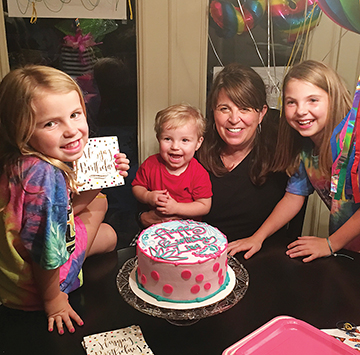 A devoted animal lover and passionate about animal advocacy, McNeece was "human" to a long line of dogs — Chandler, Carter, King, Daisy, Jack, and Charlie, who has become a local social media darling on McNeece's Instagram account under the hashtag #PoorCharlie.
In addition to family, pets, the business, and her community, McNeece shared a deep love of the Neshoba County Fair and would spend the better part of two weeks late each summer with her family and friends at the campground gathering.
Lisa Dianne Denley McNeece was born Oct. 10, 1960, in Bruce to S. Gale and Jo Ann Scott Denley.
Graveside services are Wednesday, Dec. 12, 2018, at Bruce City Cemetery at 2 p.m.
She is survived by her husband of 20 years, Joel McNeece; sister Celia Denley Hillhouse (Lanny) of Bruce; sister Deanna Clements (Randy) of Tuscaloosa, Ala.; mother Jo Ann Denley of Bruce; daughter Jo Ellen Bailey, and son Marshall Bailey (Whitney), both of Bruce; and grandchildren Addi Claire Bailey, Ellie Kathryn Bailey, and Jack Marshall Bailey, all of Bruce.
She was preceded in death by her father, S. Gale Denley, former longtime publisher of the Journal.
Memorials can be made to the Dog Lovers League, 135 Easley Ave., Bruce, MS 38915; to the Mississippi Press Association Education Foundation, 371 Edgewood Terrace Dr., Jackson, MS 39206; or to the Bruce First Baptist Church Creative Learning Center, P.O. Box 535, Bruce, MS, 38915.
Parker Memorial Funeral Home of Bruce is in charge of arrangements.
###