Casey McCoy of Calhoun City likes to get recipe ideas from Pinterest, but tends to stick to those that are "tried and true."
She has been tailgating at Mississippi State with a group from Calhoun County for two or three years now. "We have a wonderful time and great cooks. It's all about the food and having a great time!" she said.
They all like for her to bring Jalapeno Popper Dip, a Pinterest recipe that she tweaked. Of all the tailgating dishes, she loves Stephanie Lee's sweets the most, "She bakes so well and I appreciate that because baking is too tedious for me."
Once in high school Casey spent all day making gingerbread, but it wasn't good.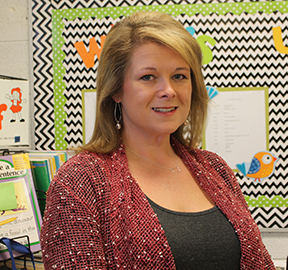 She likes the French Camp potato soup, saying it's not real heavy. She discovered it when she was at Wood Jr. College and had lunch at The Council House at French Camp.
Casey says both of her grandmothers were wonderful cooks. The asparagus casserole came  from the one in Water Valley, which Casey says always had the table set with all kinds of food for Thanksgiving and Christmas, and everything was homemade. And Casey loves her sour cream pound cake, but says she cannot make it.
Her other grandmother of Pine Valley had 10 children and worked in a school cafeteria, and one of her specialties was coconut cake.
Now Casey and her sister of Savannah, Tn. do the holiday cooking and have since 1996. Though they don't do the spread that their grandmother did, they do include her asparagus casserole and dressing.
They also like to change up the menu a little each year. Some of those changes have been shrimp, crab legs, steak, breakfast and finger foods.
Casey has been a teacher at Calhoun City Elementary School for 10 years. For Christmas the staff mostly has finger foods, and she likes to swap up what she brings. One of her favorites, though, is Barbie Keeton's Cornflake Candy.
About cooking on a daily basis, she laughs and says if she has Dt. Coke and pickles, she's been to the grocery store.
French Camp Potato Soup
4 cups peeled, cubed potatoes
1 cup chopped celery
1 cup chopped onion
2 cups water
2 teaspoons salt
1 cup milk
1 cup whipping cream
3 tablespoons butter
2 tablespoons parsley
1/8 teaspoon pepper
Combine potatoes, celery, onion, water, and salt in large Dutch oven. Simmer covered about 20 minutes, or until potatoes are tender. Stir in remaining ingredients; return to medium heat and cook, stirring constantly, until thoroughly heated. Makes about 7 cups.
Asparagus Casserole
1 medium onion, chopped
½ cup butter
8 oz. can mushrooms, drained
1 can cream of mushroom soup
1 can cream of chicken soup
2 TBS chopped pimentos, drained
2 lbs. Sharp cheddar cheese, grated (save some for topping)
2 large cans asparagus, drained
1 small can Pet milk
1 tsp. Tabasco sauce
1 tsp. Soy sauce
1 tsp. salt
1 tsp. pepper
1 TBS worcestershire
Sauté onions in butter.  Add other ingredients except asparagus. Simmer until cheese melts.  In large casserole dish, layer asparagus first, then sauce.  Repeat and end with sauce.  Add reserved cheese to top.  Bake at 350° for about 30 minutes or until bubbly.
Jalapeño Popper Dip
1 (8 oz.) package cream cheese, room temperature
1/2 cup mayonnaise
1/2 cup cheddar cheese, shredded
1/2 cup Parmesan cheese, grated
4 oz. diced jalapeño  peppers (I used Mt. Olive) drained
1/4 cup Panko bread crumbs
1/4 cup Parmesan cheese, grated
1 bag cooked bacon pieces
Mix  cream cheese, mayonnaise, cheddar cheese, Parmesan cheese, jalapenos, and bacon pieces in a bowl and pour into a baking dish. Mix the bread crumbs and Parmesan cheese and sprinkle over the dip. Bake in preheated 350° oven until  sides are bubbling and  cheese has melted and turned golden brown on top, about 20 minutes.