Carolyn Edwards Bryant of Bruce shared a couple of recipes that are "unique to her"–scuppernong (muscadine) cobbler and her version of chicken and dumplings, and one that is just unique, Mexican Apple Crepes. She describes the cobbler as "fruity and juicy," and says she doesn't always make the dumplings the same way. She says she doesn't bake much, but that the apple crepes are really good.
Carolyn can cook for 40 or two, and it doesn't bother her. She learned a lot about cooking from her mother, the late Vernette Edwards, and the late Marie Bryant, her mother-in-law, who were both good cooks, and added that Bert Johnson was her high school home ec teacher.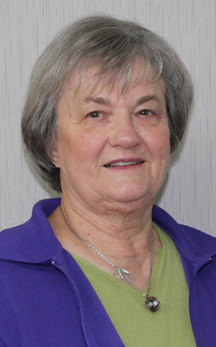 She and husband, Jerry, enjoy plain old country cooking–vegetables and cornbread, but she has a recipe collection that includes a good many from everywhere, especially from friends in Memphis, where they lived for over 40 years. She clips a lot of recipes, and if she eats something she really likes at a reunion, she always asks for the recipe. She also likes her Bruce Methodist and Mt. Comfort cookbooks.
She carries a lot of potluck dishes to family and school reunions, church, and holiday gatherings. Among the most popular for those are Rotel chicken (which she says her secret to is using golden mushroom soup instead of regular), Baked Parmesan Chicken, and most recently, grape salad.
Carolyn said her word for the new year is "giving" so she is trying to cook and give more food when a need arises, and say she always participates in the food pantry.
She says she goes in spells with her cooking, and makes soup a lot–chicken and vegetable or ham and vegetable. She now tries to cook more healthy, and always uses a lot of onion.
Carolyn cooks a lot of chicken and she loves salads–congealed and others. She likes to add apples, walnuts, grapes and more to her salads, and even adds apples to her potato salad. She also likes grape salad and she combined two recipes to get the one she likes to use. Her pasta salad recipe includes Veg-All and a sweet and sour dressing, and she also loves broccoli salad with raisins, 7-layer salad, and cranberry-pineapple salad.
About gardening, she said they usually grow tomatoes, watermelons and corn, but they can't keep the deer out of the peas or the squirrels out of the fruit.
Scuppernong (Muscadine) Cobbler
3-4 cups scuppernongs or muscadines (wash, cut in half, remove seeds, leaving pulp and hulls intact. Place in pot and cover with water. Cook until hulls are tender. Sweeten to taste, about 3/4 cup.) Preheat oven to 350°.
1 stick butter
1 cup self-rising flour
1 cup sugar
1 cup juice from cooked scuppernongs
1 tsp. vanilla
Melt butter in 9×13 casserole dish. Mix together other ingredients and pour over melted butter. Spoon or ladle scuppernongs over this batter, juice and all, covering entire pan of batter. Cook until top is golden brown and batter is done, probably about 45 minutes.
Mexican Apple Crepes
2 cans apple pie filling
8 large flour tortillas
Cinnamon to taste
Grease 9×13 pan with butter. Mix cinnamon into pie filling. Put 1/4 can pie filling on each end of tortilla and roll up. Place edge side down in pan. Eight crepes will fit tightly in pan.
Sauce:
2 cups water
1 1/2 cups sugar
2 sticks butter
1 tsp. cinnamon
1 Tbsp. vanilla
1 tsp. nutmeg
Combine sauce ingredients. Pour on top of crepes. Bake 45 minutes at 375°. While baking baste top of crepes with sauce so edges do not get crusty. Serve warm with ice cream.
Chicken and Dumplings
About 10 chicken drumsticks (skinned) and six chicken breast tenders. Place in large pot and cover well with water. Add 1 Tbsp. salt. Bring to boil. Add one sweet onion (chopped) and three celery stalks (chopped). When chicken is tender, remove, let cool, debone and break into bite-sized pieces. While broth is slowly boiling, add a 10-piece pkg. of flour tortillas, cut into strips about 1"x 2". Cook until tender. Return chicken to broth. Add can of cream of chicken soup, rinse can with 1/2-1 can water. Add cup of whole milk or however much for consistency you want. Add more salt if needed and pepper to taste.
Pasta Salad
1-12 oz. pkg. twist pasta
1 cup chopped celery
1 cup chopped green pepper
1/2 cup chopped onion, red is pretty
1 can Veg-All, drained
1 can red dark kidney beans, drained
1-4 oz. jar pimento
Cook pasta according to package directions. Drain and rinse in cool water. Drain well. Add drained vegetables, chopped vegetables and pimento. Add dressing and toss well. Chill overnight or all day.
Dressing for pasta:
3/4 cup vinegar
1 1/2 cups sugar
3 Tbsp. flour
1 1/2 tsp. salt
1 1/2 tsp. yellow mustard
1 1/2 tsp. celery seed
1 1/2 Tbsp. butter or oleo
Mix all ingredients and cook until thick and bubbly. Pour over salad and mix well.
Baked Parmesan Chicken
2 1/2-3 lb. broiler or fryer, cut-up or 5-6 fryer breasts
1 egg, slightly beaten
1 Tbsp. milk
1/2 cup or 2 oz. grated Parmesan cheese
1/4 cup flour
1 tsp. paprika
1 tsp. salt
Dash of pepper
Trim skin, leaving some on top side, so it will brown better. Mix together egg and milk, dip chicken in dip. Mix together all other ingredients and roll chicken in coating mixture. Place dry ingredients in ziplock bag and shake. Sometimes I have to mix more coating. Place in foil-lined pan, skin side up. Top with squeeze Parkay, about 1/4 cup. Bake one hour at 350° or until tender.
Cranberry-Pineapple Salad
1-20 oz. can crushed pineapple, undrained
1 large or 2 small raspberry Jell-o
1 can whole berry cranberry sauce
1 medium apple, chopped
1 cup walnut or pecans, chopped
Drain pineapple, reserving juice. Add enough cold water to juice to make three cups. Bring to boil. Remove from heat and stir in Jello until dissolved. Add cranberry sauce and stir. MIxture will be lumpy. Put into refrigerator and chill until mixture is consistency of unbeaten egg whites. Remove, stir in apple, drained pineapple, and nuts. Gel. May be kept in refrigerator several days.
Orange Slice Bars
20 orange slices or 1 lb. package (cut in 1/4" pieces and mixed with flour to keep from sticking together)
2 cups flour (plain) sifted and 1/4 cup
4 whole eggs
2 1/2 cups light brown sugar (one box)
1 cup or more chopped nuts
1/2 tsp. salt
1 tsp. vanilla
Mix dry ingredients. Mix with brown sugar. Mix with eggs. Add vanilla, nuts, and orange slices. Spread in greased shallow loaf pan. Bake 25 minutes at 350°. Let cool slightly in pan, then slice. Keep tightly covered.
Banana Punch
Boil six cups water and 4 cups sugar, and let cool. Add 46 oz. pineapple juice, 1 small can orange juice, the juice of two lemons, and three mashed bananas. Freeze. When ready to serve, add three quarts of 7-Up. Should be a slush punch. Mix with potato masher.
Betty Taylor's Mexican Bean Salad
1 head lettuce
1 lb. grated cheese
1-15 oz. can Ranch style beans, chilled
2 tomatoes, diced
3/4 bottle Catalina dressing, chilled
1-49c bag of Fritos, crushed
Raw avocado, chopped
1 lb. cooked ground beef, hot
Put all the above together and added cooked ground beef while hot.