"To me, a recipe is just a suggestion," said Carmon Miller of Calhoun City, and she doesn't really cook by them. But she has a ton of cookbooks, so many she "needs to quit buying them," she said, adding that the old ones are her favorites.
She has always enjoyed cooking, and  being in the kitchen with her mother and grandmother, who were instrumental in her learning to cook. So in college, she had a new experience from their cooking, because she was introduced to Ramen noodles, hamburger helper and not-homemade banana pudding.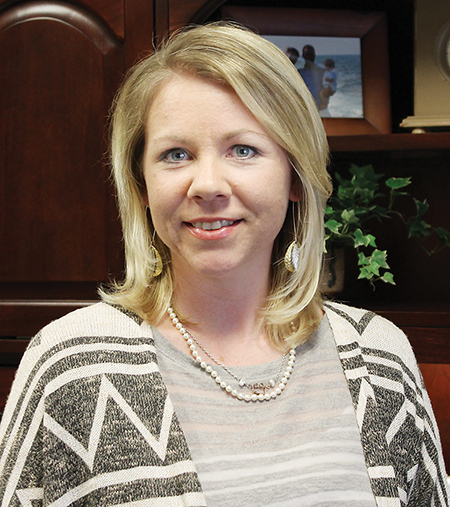 Carmon is a vegetable eater. "We live out of the garden in the summer." Most any raw vegetable she will drizzle with olive oil, sprinkle with salt and pepper, and grill or roast it. They have a garden in which they plant bell peppers, jalapenos, lots of cucumbers (which she just pickled for the first time), lots of tomatoes, squash, zucchini and okra (which she likes to roast in the oven). She even roasts and grills cabbage. She slices it to roast it in the oven, and cuts in wedges to grill. She recalled growing up picking butterbeans and purple hull peas, and shelling them while watching movies.
About her recipes, she says the cashews are really good and she likes to fix them for showers or church– "an easy recipe, that fancies up the cashews." She loves the pasta recipe because it's so versatile. "You can use as much or as little onion,  and multi-colored peppers. It is super simple and even better if it sits a day or two." She has also put it in little cups and served it as an appetizer. She found the carrot recipe on internet and says it is a  good way to give the kids carrots. Her mom concocted the "sweet and savory" cornbread recipe, and the venison is an old recipe from a friend's mom from the Delta, saying it may be served with candied sweet potatoes, wild rice, mushrooms and green salad, and that it makes an exotic touch for a beef roast.
The Millers hunt and fish a lot and they eat it, but she doesn't fry. She likes to use Greek seasoning on fish and salmon. She also likes dill and butter on the salmon or use it to make fish tacos.
Husband Josh, Clay and Slade love her hamburger steak, to which she adds Italian seasoning, Parmesan cheese, bread crumbs and Tony Chachere's.
She says she is not a baker, but for a work Christmas party at her house one year she made a multi-layer cake from a recipe she saw in a magazine. She said it was a challenge and was her first time to try a homemade cake. She was proud of it, but, "that's not how I like to cook."
Recently she made a pasta dish with chicken sausage and kale, tomatoes and homemade tomato sauce that she liked, and she would like to make homemade pasta to serve with her homemade sauces.
Roasted Cashews w/Rosemary & Orange  Zest
2 ½ (9-oz.) cans roasted whole cashews
3 T. unsalted butter
2 T. brown sugar
3 T. fresh rosemary,finely chopped
1 tsp. kosher salt
1 tsp. ground cinnamon
¼ tsp. red pepper flakes
Zest of 1 orange
Preheat oven to 350°. Spread cashews in single layer on lightly greased baking sheet. Roast five minutes. Remove from oven. Melt butter and brown sugar in a large pot over medium heat, stirring frequently. Remove from heat and stir in remaining ingredients. Add cashews to  pot and stir until coated. Spread the cashews in single layer on baking sheet and return to 350° oven. Roast  5-15 minutes or until golden brown, stirring occasionally. Be careful not to burn as cashews will darken quickly. Remove from oven and pour onto wax paper to cool. Once cooled, break into bite-size pieces. Store in airtight container.
Southern Breakfast Cornbread
1 lb pork sausage
½ red and yellow bell pepper, chopped
1 yellow onion, chopped
2 Jiffy Cornbread Mix
1 cup buttermilk
2 large eggs
1 cup grated cheddar cheese
Brown sausage in skillet and remove from fat and drain. Sauté onions and peppers until tender. Prepare Jiffy mix according to directions using eggs and buttermilk/regular milk to required directions. Add sausage, peppers, onion and cheese to Jiffy mixture. Pour into hot 9" black skillet. Bake 45 minutes at 400° or until golden brown. Invert onto serving platter and cut into wedges. Serve hot with butter, honey, or favorite jam/jelly.
Pasta Salad
1 (12-oz.) pkg. vegetable spiral pasta
1 clove garlic – finely chopped
½ tsp. dry mustard
½ tsp. salt
4 T. red wine vinegar
½ c. olive oil
Yellow or orange bell pepper – chopped
Green olives – cut in half
Grape tomatoes – cut in half
Red onion – chopped
Cook pasta according to directions. Whisk together garlic, dry mustard, salt, red wine vinegar and olive oil. Add pasta and vegetables (as much as you like.) Toss to coat. (Substitute or add any vegetables you like.)
Venison Roast w/Glaze
4-6 lb roast
1 cup orange juice
1 tablespoon lemon juice
Generous pinch allspice
2 Tbsp. butter
2 Tbsp. orange juice
½ cup crabapple or currant jelly
Rub roast with oil and season with salt and pepper. Sear at 450° for 14 minutes. Reduce oven heat to 325°. Cook covered two to three hours (depending on size of roast). Baste frequently with mixture of orange juice, lemon juice and allspice. Mix glaze of butter, orange juice and jelly. Brush glaze over roast 20 minutes before roast is done.
Balsamic Honey Glazed Baby Carrots
2 lbs. baby carrots
Vegetable seasoning
Olive oil
3 T. honey
1 T. balsamic vinegar
Sprinkle carrots with vegetable seasoning and a little olive oil. Roast on baking sheet in 400°  oven about 20 minutes. Remove carrots from  oven and drizzle with 2 T. olive oil, 3 T. honey and 1 T. balsamic vinegar. Place  back in the oven about 5 minutes.