The 47-6 final score doesn't accurately describe how dominant Calhoun City was against Riverside in last Friday's Class 2A playoff opener.
The game was played at Trojan Field in Bruce due to issues with a utility pole at the Calhoun City field, but this game could have been played on the moon, and it wouldn't have made a difference in the outcome.
The Bulldogs earned only one first down through the first three quarters. Their first offensive play of the game was a pass intercepted by Kedarius Jackson.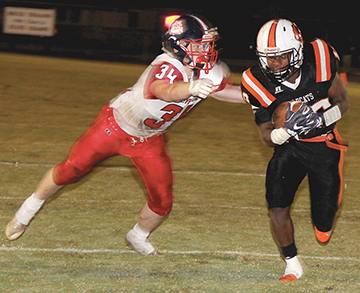 "I saw the man in motion and just went through all my keys as the coaches told me to do, and it put me in the right position to make a play," Jackson said.
The Wildcat offense pushed around the Riverside front and ran the ball at will. After Jackson's interception on the opening play, 'City marched to the end zone with eight consecutive running plays. Anfernee Campbell scored the touchdown on a 4-yard run.
The Wildcats decided to pass the ball twice on their next possession, both completions for first downs, but it was four running plays, including a 5-yard touchdown run by Campbell that put 'City up 14-0.
Riverside botched the snap on a punt their next possession, and Campbell recovered the ball at the Bulldog 5-yard line. Hayden Goodson carried it into the end zone on the next play through a gaping hole. Goodson would score the next touchdown on a 1-yard run at the end of a 7-play 63 yard scoring drive.
Two plays later, Thomas Clayton intercepted a Riverside pass and returned it 30 yards for a touchdown.
Tydarius "Red" Balford would score the next touchdown on a 13 yard run for a 41-0 Calhoun City lead at the half.
Chardarius Hill opened the second half with a 57 yard touchdown run for a 47-0 lead and the clock started rolling non-stop.
"We were just determined to get this win and move on," Wildcat senior lineman Jordan Guy said. "Next week will be a bigger challenge, but we'll be ready."
"This gives us a lot of momentum to keep going and fulfill all our goals," Jackson said of the dominating performance.
Coach Perry Liles was thrilled with his team's performance and was beginning to look at the next game. The Wildcats will travel to Union this Friday.
"Union's region is like our region in that it's tough every week. So we're both used to really good competition," Coach Liles said. "We just have to prepare and get better ourselves."