Music, food, games, arts and crafts, 5K run, and a car show are just a few of the events planned for the annual Bruce Sawmill Festival this weekend.
The first festival event will actually be Thursday, July 7 with the annual Aqua  King and Queen pageant, hosted by the 20th Century Club.
Arts and Crafts vendors will be on the square throughout Friday and Saturday with official opening ceremonies planned for 6 p.m. Friday night featuring Mayor Rudy Pope and Sawmill Festival Queen Mikayla Shelton.
Friday night's entertainment on the square will be highlighted by Class Reunion, known for playing the "tunes that everyone, regardless of age, knows and loves."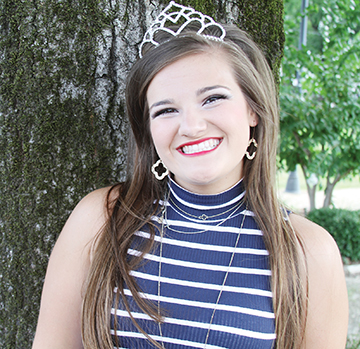 Class Reunion is an offshoot of the popular rock group The Crusaders, which was a high school rock group from Central Mississippi in the late sixties.
The Bruce Fine Arts Club will be offering their homemade ice cream Friday night and Saturday and the hospitality tent will have a wide selection of Sawmill Festival hats and t-shirts available. You can purchase a t-shirt in advance at the Bruce Chamber office in the Bruce Museum, Jeffery's, T-nT, and Piggly Wiggly.
A potential record number of vendors are expected. Among the many scheduled to attend are Coach Terry Allen with his new book, Tales of Calhoun County; Blings and Things Jewelry; woodworking; a toy booth for children;  face painting; candles; pottery; jams and jellies; forging and more.
Food options will include Cajun, Mexican, Oriental,  shaved and Italian Ice, Chickenbone FD, pork skins and festival favorites funnel cakes, corn dogs, cheese fries, nachos, cheese steak, Philly steak, nachos and more.
The many kids' games available will be jumpers, a gyro ride, a bucking bull, and a water ball game to name a few.
The Bruce Rotary Club will be selling chances for a "Golden Boy" Rifle to be raffled at noon on Saturday.
The Bruce Museum building will also be open for those wanting to soak up some  cool air conditioning.
The Museum's 5K Run and 2K walk will be Saturday, July 9 at 8 a.m. Registration will open at 7 a.m. T-shirts are available for all who register. Contact the Bruce Chamber of Commerce office at 983-2222 for more information.
Other Saturday highlights include the classic car show, live entertainment from the gazebo, including Jessey Higdon, South of Memphis, the Ellis Family and Lyrix with Linda Ann Ward.
The festival is a fundraiser for the civic clubs of Bruce –  Chamber of Commerce, Rotary, Lions Club, Masons, 20th Century Club, and Fine Arts.
For more information on the festival call the Bruce Chamber of Commerce at 983-2222.
2016 Bruce Sawmill Festival Schedule
Thursday, July 7
7 p.m. Aqua Queen Pageant at Multi-Purpose Building in Pittsboro
Friday, July 8
12 p.m. Vendors will begin arriving on Bruce Square
4 p.m. Chamber of Commerce hospitality tent opens with 2016 Sawmill Festival t-shirts and more.
5:30 p.m. Fine Arts Club's homemade ice cream booth opens on square.
6 p.m. Official welcome by Bruce Mayor Rudy Pope and 2016 Sawmill Festival Queen Mikayla Shelton. National anthem performed by Kim Gregory.
6:15 p.m. Michael Locke of Kosicusko performs country music.
7 p.m. Jessey Higdon of Bruce performs
8 p.m. Class Reunion Band will perform from the gazebo until 10 p.m.
Saturday, July 9
7 a.m. Registration opens for 5K Run and 2K Walk beside Bruce City Hall.
8 a.m. 5K Run starts by City Hall and Show and Shine Car Show opens in area above northeast corner of square. Arts and Crafts vendors open.
9 a.m. Welcome by Mayor Rudy Pope and Sawmill Queen Mikayla Shelton, National Anthem performed by Satrina Massey
9:15 a.m. Lyrix and Mrs. Linda Ann Ward's students perform in gazebo
11:30 a.m. South of Memphis performs
12 p.m. Bruce Rotary Club holds drawing for Golden Boy rifle
12:45 p.m. Wrecking Ball performs
2 p.m. The Ellis Family performs
For more information on the festival call the Chamber office at 983-2222