Brittany Griffin of Bruce learned to cook and make candy from her grandmother, the late Frances Weeks, who was known for her Christmas candy. While she and her mother, Joy, enjoy making some of their favorites of  Mrs. Frances' candy (peanut butter fudge, pecan log roll balls, peanut butter balls), Brittany has branched out into biscuit making.
She started with a peach biscuit recipe from Pinterest and made it her own. It turned out like she wanted the first time. Earlier this summer she began a weekly contest on Facebook (britt's bits) and Instagram (britt'sbits2014) to name a new flavor of biscuit.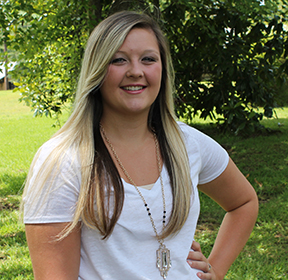 So far the winners have selected the names of Sweet Potato Sunrise, Sweet Southern Sass (maple pecan), Berry Explosion (mixed berries) and Just Peachy. Winners receive 12 mini biscuits and second place gets 12 minis for $4 (regular price is $6.)
She says she has had a lot of response to her Britt's Bits contests, and has a binder of 15 different biscuit recipes including strawberry, sausage/cheese, bacon/cheese, cheese, apple pie, blueberry, chocolate chip, ham/cheddar, buttermilk, cinnabites and ooey gooey cinnamon roll.
Brittany cooks a lot and it's usually for a lot of people. If her family has a cookout, they always serve the loaded baked potato casserole that Joy made up. They like to have it with hamburgers, pork chops or bacon wrapped chicken, and corn on the cob. If they cook out hamburgers, the family always wants her to make jalapeno popper dip. She says she will probably do a lot more cooking this fall because she will be in an apartment at Mississippi State and her roommate wants her to teach her to cook.
She looks at Pinterest almost every day and has made a lot of things from there, including a lasagna recipe she said was good. Her favorite food is spaghetti, which she likes to make with Ro-Tel, and she also likes to bake the Texas brownies that, "Granny (Frances) always made."
Just Peachy Biscuits
2 1/2 cups all-purpose flour
4 tsp. baking powder
1/2 tsp. salt
2/3 cup cold unsalted butter cubed
1 1/4 cups heavy whipping cream
1 ripe peach, chopped
Pre-heat oven to 400. In mixing bowl, combine flour, baking powder and salt. Cut butter into mixture until mixture resembles coarse crumbs. Add cream until just combined. Add in chopped peach pieces. Pat out dough and cut into biscuits. Bake 12-15 minutes or until golden brown.
Butterfinger Delight
(Sarah Longest)
1 angel food cake
1 stick of butter, melted
2 eggs
2 cups powdered sugar
1 tsp. vanilla
1-16 oz. Cool Whip
6 Butterfingers
First cut angel food cake into small squares and spread over bottom of 9×13 pan. Let Cool Whip set at room temperature 10 minutes, then put into medium size bowl. Combine 2 raw eggs, 2 cups of powdered sugar, 1 tsp. vanilla and 1 stick of melted butter. Crush 4 Butterfingers and put in bowl with other ingredients. Mix by hand. Do not use an electric mixer. When it is mixed, pour over cake squares in pan. Crush last two Butterfingers and spread over top of the mix in the pan. Chill for 35 minutes and then serve.
Texas Brownies
(Frances Weeks)
2 cups self-rising flour
2 cups granulated sugar
1 stick butter
1/2 cup shortening
1 cup water
1/4 cup cocoa
1/2 cup buttermilk
2 eggs
1 tsp. baking soda
1 tsp. vanilla
Frosting:
1/2 cup butter
2 Tbsp. cocoa
1/4 cup milk
3 1/2 cups powdered sugar
1 tsp. vanilla
In large mixing bowl, combine flour and sugar. Then in heavy saucepan, combine butter, shortening, water and cocoa. Stir and heat to boiling. Pour boiling mixture over flour and sugar in bowl. Add buttermilk, eggs, baking soda and vanilla. Mix well, using wooden spoon or high speed on electric mixer. Pour into well-buttered 17 1/2×11" jelly roll pan. Bake at 400 for 20 minutes or until brownies test done in the center. Mix frosting and pour over warm brownies.
Loaded Baked Potato Casserole
(Joy Griffin)
5-6 baking potatoes
2 Tbsp. butter
8 oz. sour cream
1-2 cups shredded sharp cheddar cheese
1 cup real bacon bits
1 cup green onions
Bake potatoes until done. Place potatoes in mixing bowl. Add butter, sour cream, 1-2 cups cheddar cheese (depending on how much you prefer), bacon bits and green onions. Mix well, then pour into a 9×13 casserole dish. Top with more cheddar cheese and green onions as desired. Place in oven on 350 until cheese on top is melted.