"If anybody can read, they can cook," Billy Van James told some home health nurses who were talking to his mother, the late Mary James, about cooking around 10 years ago.
Having to prove himself right, he asked his mother how to make a chocolate pie. "She had all of her recipes in her head and would just tell me how to make something," he said. The first pie he had to throw out, but he said he nailed it on the second one. After that he had one ready each time the nurses came to check on her. Two of Mary's chocolate pie secrets are the package of Nestle's hot cocoa mix, and to spread the meringue from the outer edge to the center.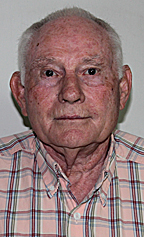 "She was a great cook and learned from her mother, Gara Vance," he said. James does not have a favorite food of his mother's, "Everything was delicious." He picked up a lot of things she did while cooking, like adding a little bacon grease to the top of the biscuits after she cut them out. He learned to cook young, and his brother, Tommy, would make him fix fried chicken, and chicken and dumplings for him. Besides the bean burgers, he has his own concoction for barbecue sauce for grilled ribs in which he uses honey, worcestershire, A-1, ketchup and mustard.
"I have just come from James' family reunion and Billy Van James brought a homemade chocolate pie that looked like it could have been pictured in Southern Living.  And it tasted very good.  I heard that he also makes delicious cakes," e-mailed Margaret Hill of Pittsboro. Billy Van said he has been cooking forever for the reunion, mostly after his mother got sick. This year he made pork chops smothered in mushroom soup, and every year he makes pies. He said he usually takes chocolate cake, caramel or chocolate pie, but that the caramel pie is "tedious" to make. The James reunion was started in the 1920s-30s by his grandfather, Vardy James, in his front yard in Reid. It has been held since then on the first Sunday before Labor Day, but is now at Vardaman Community Center.
Chocolate Pie
3 Tbsp. cocoa
3 Tbsp. flour
1 1/2 cups sugar
2 cans Pet milk
4 large egg yolks
1 pkg. Nestle hot cocoa mix
1 stick margarine
1 Tbsp. vanilla extract
Cook until thick and pour into a deep dish pie crust that has been browned. For meringue, mix 4 large egg whites with 1/4 cup sugar and 1 Tbsp. vanilla extract. Put on pie, spreading from outer edge to center. Bake at 350° until brown.
Chicken Salad
4 chicken breasts, cooked and chopped
3 eggs, boiled
1 apple, grated
1/2 stalk celery, cut fine
2 Tbsp. pimiento, mashed
2 Tbsp. salad cube pickles, chopped
1/2 cup Miracle Whip
1 Tbsp. soy sauce
Mix soy sauce and Miracle whip, then mix in all other ingredients.
Bean Burgers
1 lb. ground beef
1/2 onion, chopped
Brown together and drain.
Mix together: 1 can pork and beans
1 Tbsp. mustard
1/4 cup ketchup
Add to meat mixture. Lay out 10 biscuits on cookie sheet, pressing them down some. Spoon sauce over biscuits and top with cheese. Bake at 350° until biscuits brown and cheese melts.