"I did not take an interest in cooking until I was in my 30's," said Beverly Ruth of Bruce, "I started out frying a lot of food and making casseroles."
She still eats fried food some, but "many things change throughout your life and trying to eat healthy and exercise become very important," she said.
Now she prefers to grill, bake, steam or roast veggies and meat.
Beverly, who was born and raised in Bruce, comes from a family full of good cooks. "I have many family members and friends from Calhoun and surrounding counties that have a love for cooking," she said.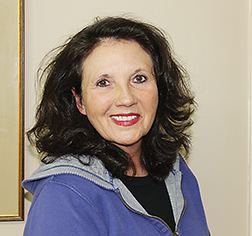 "I have recipes from everywhere," she said, and she likes to try new and healthy things.
She and a neighbor have a small garden together in which they grow mostly tomatoes and peppers, and sometimes eggplant.
At some point, Beverly just began experimenting and making things like homemade tartar sauce and taco seasoning, and says you won't go back to the packaged once you've tried these. For the holidays she makes a homemade cranberry relish. And when making the berry cobbler, blackberries and blueberries are her favorite to use.
Her steak marinade, which she says is really good, is: 1/3 cup soy sauce, 1/2 cup olive oil, 1/3 cup fresh lemon juice, 1/4 cup Worcestershire sauce, 1 1/2 Tbsp. garlic powder, 3 Tbsp. dried basil, 1 1/2 Tbsp. dried parsley flakes, 1 tsp. ground white pepper, 1/4 tsp. hot pepper sauce, 1 tsp. dried minced garlic.
She doesn't really have a favorite food, but Ina Garten is her favorite Food Network chef. She likes Ina's hummus recipes and says it's good on tacos in the place of refried beans.
She makes her own bread crumbs, which she likes to add to the stuffed mushrooms, along with spinach.
"One thing that has not changed is that the kitchen is the heart of every home," and she feels that it is the most welcome and comforting room in the home, so people just love to gather there.
Berry Cobbler
1/2 cup butter for baking
pan (I use Land of Lakes
olive oil butter)
Syrup: 2- 2 1/2 cups sugar
3 cups water
Cobbler: 1 1/2 cups
self-rising flour
1 cup butter
1/3 cup milk
3 cups berries
1 tsp. cinnamon
2 Tbsp. sugar for dusting
(If self-rising flour is not available, substitute 1 1/2 cups all purpose flour, 1/4 tsp. salt and 2 1/4 tsp. baking powder.) Melt 1/2 cup butter in baking dish; set aside. In large bowl make cobbler dough by cutting one cup butter into flour until particles are like fine crumbs. Add 1/3 cup milk and stir until dough leaves side of bowl. Knead 3 or 4 times and roll out on floured wax paper. Add frozen or fresh berries. Sprinkle with cinnamon and roll up like jelly roll. Cut in 1 1/4" slices and place in pan with melted butter. Pour sugar water syrup over slices and add extra berries. Bake at 350° for one hour and 15 minutes before removing from oven. Sprinkle with 2 Tbsp. sugar.
Salmon Ball
16 oz. can (2 cups) salmon, drained
1 Tbsp. finely chopped onion
1 Tbsp. prepared horseradish
1/4 tsp. salt
1 Tbsp. fresh lemon juice
8 oz. pkg. cream cheese
Minced parsley
In medium bowl, flake salmon, removing skin and bones. Add remaining ingredients except parsley. Mix well. Refrigerate until firm enough to roll into ball. Shape into ball and roll in parsley. Serve with assorted crackers or small slices of rye bread.
Homemade Taco Seasoning    
1 Tbsp. chili powder
1/4 tsp. garlic powder
1/4 tsp. onion powder
1/4 tsp. crushed red pepper flakes
1/4 tsp. dried oregano
1/2 tsp. paprika
1 1/2 tsp. ground cumin
1 tsp. sea salt
1 tsp. black pepper
Mix all ingredients and put in airtight container. Makes 1 oz. (Double recipe and add 1/4-1/2 cup water to two lbs. cooked ground chuck.
Stuffed Mushrooms
12 whole fresh mushrooms
1 Tbsp. olive oil
1 Tbsp. minced garlic
18 oz. pkg. cream cheese
1/4 cup grated parmesan cheese
1/4 tsp. ground black pepper
1/4 tsp. onion powder
1/4 tsp. ground cayenne pepper
Options: Add Italian bread crumbs and/or steamed spinach
Preheat oven to 350°. Spray baking sheet with cooking spray. Clean mushrooms with damp paper towel. Carefully break off stems, discarding tough ends. Put rest of stems in a chopper and chop firmly. Heat olive oil in large skillet over medium heat. Add chopped mushroom stems and garlic. Fry until moisture disappears, taking care not to burn garlic. Set aside to cool. When garlic and mushroom mixture cools, stir in cream cheese, parmesan cheese, black pepper, onion powder and cayenne pepper. Mixture should be very thick. If you want to add spinach or bread crumbs now is the time. Using a little spoon, fill each mushroom cap with generous amount of stuffing. Place caps on sprayed cookie sheet. Bake 20 minutes in preheated oven or until mushrooms are hot and liquid forms under caps. You can slice a small piece of the bottom off the mushrooms so they sit well on cookie sheet.
Homemade Tartar Sauce
1/2 cup Blue Plate or Hellman's mayonnaise
3 Tbsp. diced pickles
1 finely chopped onion
1 tsp. coarse grained mustard
Pinch of kosher salt
Pinch of black pepper
1 tablespoon of white wine vinegar
Mix well. Refrigerate and serve with catfish or fish of your choice.
Ina Garten Hummus  
2 cups chickpeas or garbanzo beans, liquid reserved
1 1/2 tsp. kosher salt
4 garlic cloves, minced
1/3 cup tahini (sesame paste)
6 Tbsp. fresh squeezed lemon juice (approx. 2 lemons)
2 Tbsp. water or liquid reserved from beans
8 dashes hot sauce
Place all liquid in bowl of food processor until hummus is coarsely pureed. Serve chilled or at room temperature.
Spicy Chicken Linguine
16 oz. linguine
1 lb. boneless cooked chicken meat
1 tsp. red pepper flakes
1 cup chopped bell pepper
1 Tbsp. minced garlic
1 Tbsp. chopped parsley
1/2 cup chopped onion
1 cup heavy cream
1/2 cup chicken broth
1 tsp. salt
1/2 cup grated parmesan cheese
2 Tbsp. olive oil
1 tsp. rubbed sage
Bake or roast chicken. Debone, dice and set aside. Heat olive oil in 12" pan over medium heat. Cook garlic, onion, bell pepper and parsley five minutes. Add diced chicken, red pepper flakes, sage and salt. Add heavy cream and chicken broth. Cook until creamy and add cooked linguine and parmesan cheese.
Butternut Hummus
3/4 lb. cooked butternut squash
2 Tbsp. lemon juice
2 Tbsp. tahini
8 pitted green olives
1 clove garlic
Puree all ingredients in food processor, adding one or two Tbsp. water, if needed.
Guacamole
4 ripe Haas avocados
3 Tbsp. freshly squeezed lemon juice
8 dashes hot pepper sauce
1/2 cup diced red onion
1 clove minced garlic
1 tsp. kosher salt
1 tsp. ground black pepper
1 medium tomato diced
Cut avocados in half and remove pits. Scoop flesh out into medium bowl. Add lemon juice, hot pepper sauce, garlic, salt and pepper. Mix well and add tomato.