Betty Colbert of Vardaman recalls a couple of years ago making 32 sweet potato pies during the holidays, mostly for family.
One granddaughter, Amber, 18, brings a cooler when visiting from Knoxville for the holidays, to take home all the leftover or uneaten pies.
Mrs. Betty emphasizes using real vanilla when making it– "that's where you get your flavor," because she doesn't use any other spices.
"I kept fooling with it until I got the taste I liked. I really worked on that."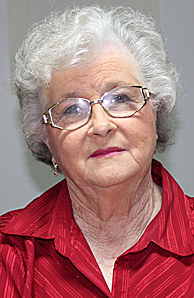 She was very honored when Mary Sue Wells asked her for the pie recipe to include in her Wells' family cookbook.
Betty has loved sweet potatoes all of her life. "I don't think there is any way you could fix a sweet potato that I wouldn't like." She tries a lot of sweet potato recipes and one she really likes is cobbler.
"It is good, really good." And whenever sweet potato fries are an option, she takes it. She usually makes sweets when taken food somewhere– like sweet potato or pecan pies.
She also makes homemade candy– fudge, divinity, crockpot candy–and a three-layer fudge she created, named "Grandma's Fudge" by granddaughter Amberle, 10. She has no idea how long she's been making candy. "I just started by making holiday baskets and it grew from there."
The first thing she remembers making was a fudge cake from a recipe on a Hershey's cocoa can. In home ec class she learned to make fudge with cocoa and sugar, and "it was hard to make."
"I love to cook, bake, and try out new recipes," she said. She and others share a lot of recipes, and that's her biggest way of collecting them, adding that she has three boxes of cookbooks. Every once in awhile she will make something different that she hasn't done in a long time from an old cookbook, like a 7-Up or a Coke cake.
The apple pie is an "old, old recipe" and the lemon dessert is "the most delicious thing you'll ever eat. It melts in your mouth and is rich! And it makes a big pan." The tater tot recipe is a little different because it has oats in it. The Banana Twinkie Pudding dessert and stuffed pork chop recipes are both very good, she said, and were given to her by her daughter, Nora, who passed away in 2008.
Sweet Potato Pie
1 stick oleo melted
2 cups cooked sweet potatoes
2 cups sugar
1 small can evaporated milk
1 tsp. real vanilla
3/4 cup coconut (optional)
3 eggs
Mix potatoes, sugar and milk, and other ingredients. Mix well. This will make two deep-dish pies.
Tater Tot Dish
1 lb. extra lean ground beef, cooked (salt to taste)
1 onion, chopped
1 Tbsp. quick cooking oats
1 (10.75 oz.)?can condensed cream of mushroom soup
1/2 (10.75 oz.) can milk
1 (32 oz.) pkg. tater tots
Preheat oven to 375°. Crumble beef and salt into a 9×13" baking dish. Add chopped onion, sprinkle oats on top. In small bowl, combine soup and milk, and pour over meat mixture. Top all with tater tots, placing them close together. Bake in oven one hour.
Banana Twinkie Pudding Dessert
10 Twinkies (light or regular)
1 box banana or banana cream fat-free instant pudding
2 cups skim milk
1 container of Cool Whip (your choice fat-free or lite)
3 bananas, sliced
Cut Twinkies lengthwise and place cream side up in oblong pan. Slice three bananas and put on top of Twinkies, then mix pudding with the two cups of milk and pour over. Top with Cool whip and spread over top. Chill for one hour.
Apple Crisp Pie
4 cups sliced cooking apples (4-6 medium)
1 Tbsp. lemon juice
1/3 cup sifted enriched flour
1 cup Quaker oats (uncooked)
1/2 cup brown sugar
1/2 tsp. salt
1 tsp. cinnamon
1/3 cup melted butter or margarine
Place apples in greased shallow baking dish. Sprinkle lemon juice. Combine dry ingredients. Add melted butter, mixing until crumbly. Sprinkle crumb mixture on top of apples. Bake at 375° for 30 minutes or until apples are tender. Remove from oven and serve warm or cold.
Lemon Dessert
Preheat oven to 350°.
Crust: 1 1/2 cups self-rising flour
2 Tbsp. sugar
1/2 cup butter + 2 Tbsp. (melted)
1/2 cup chopped nuts
Mix and pat into a 9×13 pan. Bake at 350 for 15 minutes. Cool.
1st layer: 8 oz. cream cheese, softened
1 cup powdered sugar
1-8 oz. Cool Whip
Mix and spread onto cooled crust.
2nd layer: 2 cans sweetened condensed milk
1 cup lemon juice
6 egg yolks
Mix and pour onto first layer.
3rd layer: Cover with 8 oz. Cool Whip. Chil.
Pork Chops with Apples and Stuffing
1 can apple pie filling
Pork chops, not real thick
Stuffing mix
Pecans, optional
Put apple pie filling on bottom of pan. If you use pecans, chop a few over the apples, then cook pork chops in skillet until white on both sides. Place on top of the apple filling. Cook stuffing according to package directions, then put on top of pork chops. Bake at 350° for 30 minutes covered, then five more minutes uncovered.