In 1995, Beth Dean and husband, Johnny, Hilda and Del Hemphill, Brenda and Danny  Hawkins, Jane and Charles Hardin, all of Calhoun City, were at an out-of-town restaurant, and someone in the group said, "We can cook this kind of food!" And so began their couples' supper club held once every month for the next 10-12 years. Joining them later were Judy and Chodie  Myers and Judy and Paul Moore Jr.
Turns were determined by alphabetical order. The hosts chose the theme, planned the menu, and also prepared the entree, but each of the other guests made whatever appetizer, dessert or sides that were on the host's menu. "We went all out," she said, serving an appetizer, entree and dessert, and "the works…we used crystal and china."  She said they used their cookbooks and magazines like Southern Living for their inspiration and recipes.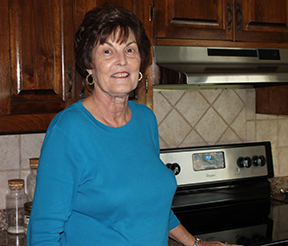 Occasionally they did a progressive meal, but usually it was all held at one home. They did have a Brazilian meal that was progressive for which Dean served Banana Canape and Chicken-Almond Ball appetizers at her house. The group proceeded to the Hawkins' home for corn soup, then to the Hemphills for the entree–lemon and garlic roast pork with hot pepper-lemon sauce, black beans and rice and sauteed collard green with onions. It concluded with banana pie and coffee at the Hardins'  home.  In their fourth year, a feature on their Chinese New Year appeared in Mississippi magazine. That was one Dean remembers as a favorite of hers, and it was held at the Hemphills', who had also belonged to supper clubs in Seattle and Michigan. "It was so much fun. We had lots of laughs…it was a good time."
Beth says she doesn't cook as much as she used to, "except when the kids come home," but she still enjoys having people over to eat. She is diabetic now, and she replaces sugar with Splenda in many recipes. "Sometimes they work and sometimes they don't."
She uses Splenda in the applesauce muffins and says you can't tell the difference. She makes them a lot at Christmas, and says they keep well. She likes to make chocolate delight and does it with lower sugar–using a graham cracker crust, sugar free chocolate pudding, and lite or regular cool whip. She and the grandchildren like this, saying Mark likes chocolate and Layne likes anything.
Her grandchildren love her rice casserole (with green beans and chicken), which she also likes to make for church dinners. The chocolate pie is an old-time recipe of her mother's. You can replace the cocoa with coconut for a good coconut cream pie, she said, which she does a lot of times.
Beth started cooking when she was about eight and had complete meals of vegetables and cornbread or biscuits on the table when her parents came in from the field. She likes fresh vegetables, especially fried eggplant and squash, and she didn't start cooking different things until after she married. She says she will occasionally cook something new now, but she sticks to her cookbooks for recipes, "I am not an internet person,"  and basically cooks by the recipe.
Her mother always made Irish potato candy at Christmas and Beth has made it, too. The recipe actually uses an Irish potato and powdered sugar, and are dipped in chocolate. Her mother also made caramel fudge and butterscotch pie, but no one in the family can make that butterscotch pie. "There was an art to it," she said.
Applesauce Muffins
2/3 cup melted Crisco (I use Canola oil)
1 cup sugar or Splenda
1 cup raisins
1 cup nuts
2 tsp. soda
2 cups plain flour
1 1/2 cups hot applesauce
1 tsp. cinnamon
1/4 tsp. salt
1/2 tsp. ground cloves
1/2 tsp. ground nutmeg
Note: Baking soda must be added to applesauce while it is hot. Melt shortening, add sugar, hot applesauce in which soda has been added. Add dry ingredients, raisins and nuts. Bake at 350° until done.
Rice Casserole
1 stick margarine
1 onion (chopped)
1 cup raw rice
2 cans beef consomme
1 can sliced mushrooms (optional)
Saute onions in margarine until tender. Mix with other ingredients and pour into 2-qt. casserole and bake for one hour at 350°.
New Fruit Salad
2 large cans pineapple chunks in natural juice (drain and save one cup of juice)
1 regular size can of mandarin oranges (drain and dispose of juice)
1 medium jar maraschino cherries (drain and dispose of juice)
1 package of pecan pieces
3 large bananas, sliced
1 regular size box of sugar free vanilla Jell-O instant pudding mix
Mix drained fruits in large bowl. In another bowl, pour cup of pineapple juice and add pudding mix; beat one minute. (Do not use the milk you would ordinarily use with the pudding mix.) Pour pudding mixture over the fruit, coating fruits and nuts well. Chill before serving. This is also good as a dessert and will keep in the refrigerator up to two weeks without bananas turning dark.
Mama's Chocolate Pie
1 cup sugar
3 heaping Tbsp. of cocoa
4 Tbsp. flour or 2 Tbsp. cornstarch
Pinch salt
1 tsp. vanilla
1 1/2 cups milk
1 Tbsp. margarine
2 eggs or 1/2 cup egg beaters
Mix flour, sugar, salt and cocoa together in a sifter. Pour in double boiler and mix with eggs. Beat well. Add milk. Add vanilla and margarine. Cook until thick. Make meringue and brown.
Strawberry Salad with Pretzel Crust
4 oz. pretzels, broken into small pieces
1/2 cup reduced-fat margarine, melted
3 Tbsp. sugar substitute (Splenda)
1-8 oz. block 1/3 less fat cheese (Neufchatel)
1-8 oz. lite Cool Whip thawed
1- .6 oz. pkg. strawberry sugar-free gelatin
1 1/2 cups boiling water
2 cups sliced fresh strawberries
Combine pretzels, margarine and sugar substitute. Spread pretzel margarine in an 11×7 1/2" baking dish. Bake at 400° for 10 minutes. Cool. Beat cream cheese at medium speed of an electric mixer until smooth; fold whipped topping into cream cheese, using wire whisk. Spread cream cheese mixture over pretzel mixture. Chill. Combine gelatin and water, stirring until gelatin dissolves. Stir in strawberries. Cool until partially set. Pour over cream cheese mixture. Cover and chill at least eight hours. Yield: 12 servings.