Barbara Turner remembers as a child spending time with her mother, the late Salima Boyle Denley, in the kitchen watching her cook. "She loved to cook and, of course, I wanted to be just like her.
"I would ask her to tell me her recipe and she would reply with 'a pinch of this and a dash of that'. I thought at the time I could figure this out, only to find out I couldn't find a recipe that had dashes and pinches in it!"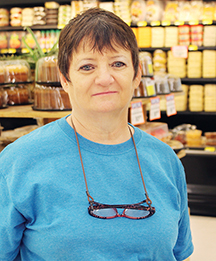 Now that she says she is older and somewhat wiser, she has learned how to read between the lines and find the pinches and dashes, and "it works out just fine most of the time," she said. "I will never be the cook my mom was as mine never tastes as good as hers, but who can compare  with a mom?" But she says hers is a "good family to cook for–they are all easy to please."
Her cooking habits have been passed down through the family as her son, Brent, loves to cook, and his son, Dallas, also.
"I have shared some of my pinches and dashes with them," she said.
And as Dallas will be going off to college in Nashville, she says she won't worry as much about him since he knows how to cook.
The Ribbon Salad was a Christmas tradition of her mother that she has continued, and the pineapple cake was one of her mother's favorites, that Barbara traditionally makes also. She got the dip recipe from a friend that she says is so good.
Spaghetti is her favorite food, and she loves it served with cole slaw. Barbara has been cooking and making salads at Piggly Wiggly for 15 years.
"As my mom is sharing recipes in heaven now, it seems some days she is still telling me how many pinches and dashes to use in my recipes–a recipe that will never grow old."
Ribbon Salad
1-3 oz. pkg. lemon gelatin
1-3 oz. pkg. lime gelatin
1-3 oz. pkg. cherry gelatin
3 cups boiling water
1 cup miniature marshmallows
1 1/2 cups cold water
2-3 oz. pkg. cream cheese, softened
1/2 cup mayonnaise
1 cup whipped cream
1-20 oz. can crushed pineapple
Dissolve gelatin flavors separately in one cup of boiling water for each. Stir marshmallows into lemon gelatin. Add 3/4 cup cold water to lime and cherry. Pour lime into 13x9x2 lightly oiled glass dish. Chill until set. Add 3/4 cup cold water to lime and cherry. Set aside at room temperature. Then add cream cheese to lemon and beat until well blended. Chill until slightly thick. Then blend in mayonnaise, whip cream and crushed pineapple. Chill until very thick and spoon over lime gelatin. Chill cherry until thickened. Pour over lemon gelatin. Chill and serve.
Pineapple Delight Cake
2 1/2 cups crushed pineapple
1 1/2 cups sugar
2 1/2 cups plain flour
2 tsp. soda
1/2 tsp. salt
2 large unbeaten eggs
Mix well. Put in greased 9×13 cake pan and bake until cake is ready.
Filling:
1 1/2 cups sugar
2 sticks melted butter
1 cup evaporated milk
1 cup coconut
1 cup chopped pecans
Cook until it becomes a rolling boil and let it boil for two minutes. Pour over cake.
Captain Rodney's Deluxe Cheese Dip
Grease a 9" round baking dish
Mix together until smooth:
1-8 oz. block softened cream cheese
1/2 cup Hellman's mayonnaise
1 cup shredded  cheddar cheese
3 chopped green onions
Bake at 350° for 15 minutes.
Crush six butter Ritz crackers, sprinkle over top. Spread one pkg. real bacon bits over crackers. Drizzle 1/2 cup Captain Rodney's. Return to oven for three minutes. Serve hot with Scoops chips or Ritz crackers.
Barbara's Slaw
Cabbage
Radishes
Pickle relish
Carrots
Dressing: 1 cup mayonnaise, 1/4 sugar, 1/4 cup milk