Kim Snellings loved cooking and flowers, and she carried both to work in the office at Weyerhaeuser. Many times she prepared meals for events there–breakfast, lunch or dinner. "It didn't bother her to do big crowd stuff," said her mother, Ann Snellings. "She was very particular about food prep. She was organized–with her planning, grocery shopping and serving dishes. She had all her stuff together when she was taking food somewhere."
Snellings and Kim Carr Trimble, formerly of Bruce, did some catering and called themselves, "Kim and I." They prepared finger foods, fruit and vegetable trays and displays with dips and more. They would do things like well out a bell pepper and put the dip inside it. "The gist of it was, she made everything look pretty, and enjoyed doing it," Ann said.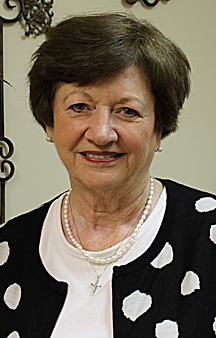 Kim was a member of Bruce Fine Arts Club, and when she was a hostess, the meeting was held at the Snellings' house, Paula Jeffery's or Ellen Shaw's.?They served anything from finger foods to a meal. Early in Paula Deen's career, Kim, Ann, Paula and Ellen spent a weekend in Nashville at the Opryland Hotel during which Deen cooked breakfast, lunch and dinner with those attending. Kim presented Deen with a kitchen towel made by Jill Ferguson, and enjoyed seeing it on some episodes of her cooking shows on Food Network.
She liked to cook sweets and casseroles, and try new recipes, and "she improvised recipes a lot," said Ann. Kim had two recipes, Roasted Corn Salad, and Blueberry Cream Cheese Pound Cake with blueberry sauce published in magazines. The salad was featured in the July/August 2006 edition of Mississippi?magazine, and the cake was in a spring edition of Celebrate magazine featuring "seasonal delights."
"You would not believe her recipe collection," said Ann, which includes many Paula Deen cooking magazines, along with other cookbooks. The coca-cola salad recipe came from an old, old cookbook she had, according to Ann. Kim made whoopie pies a lot, and they were a favorite of her brother, Kevin. Ann said that Kim also kept fresh cut flowers around her year around, made many photographs of flowers, and she planted the buttercups that come up on the Bruce square every spring.
Editor's Note: This week's column is in memory of Kim for her birthday. (October 20, 1965-November 5, 2010)
Blueberry Cream Cheese Pound Cake
1 (18.25 oz.) package butter-flavored cake mix
1 (8 oz.) pkg. cream cheese, softened
1/2 cup vegetable oil
3 large eggs
1/2 cup chopped pecans
1 (15 oz.) can blueberries, drained, not rinsed.
Blueberry Sauce (recipe follows)
Preheat oven to 350°. Spray a 10" tube or 12-cup fluted pan with nonstick baking spray with flour. In large bowl, combine cake mix, cream cheese, oil and eggs, beating at medium speed with an electric mixer until smooth. Fold in pecans and blueberries. Pour batter into prepared pan. Bake for 40 minutes, or until a wooden pick inserted in center comes out clean. Let cake cool in pan for 10 minutes. Remove cake from pan, and cool completely on a wire rack. Serve cake with blueberry sauce (below), and garnish with fresh blueberries, if desired.
Blueberry Sauce
1 (8 oz. pkg.) cream cheese, softened
1 (14 oz.) can sweetened condensed milk
1 (15 oz.) can blueberries drained, not rinsed
In large bowl, beat cream cheese and condensed milk at medium speed with electric mixer until smooth. Fold in blueberries.
Roasted Corn Salad
1 (16 oz.) bag frozen whole-kernel corn (or 2 cups fresh corn cut from cob if available)
1 Tbsp. butter
1 avocado, diced into 1/2" pieces
1/2 cup red onion, finely diced
1/2 cup roasted peppers, diced into 1/2" pieces
1/3 cup mayonnaise
Zest of lime (about 1/2 Tbsp.)
3/4 tsp. ground cumin
1 Tbsp. fresh parsley, chopped
1/2 tsp. salt (or to taste)
Additional parsley for garnish
Saute corn and butter in a skillet over medium-high heat until corn is slightly roasted (5-8 minutes). While corn is still warm, add next three ingredients. transfer to large bowl. In a small bowl, mix together mayonnaise, lime zest and juice, cumin, parsley and salt. Pour over corn mixture, and gently stir to mix. Garnish with parsley leaves if desired.
Whoopie Pies
2 (18.5 oz. pkgs.) devil's food cake mix
4 eggs, lightly beaten
2/3 cup vegetable oil
1 (8 oz. pkg.) cream cheese, softened
1/2 cup (1 stick) butter, softened
3 cups sifted confectioner's sugar
1/2 tsp. vanilla extract
Preheat oven to 350°. Line cookie sheets with parchment paper. In large mixing bowl, combine cake mix, eggs, and oil. Beat with electric mixer at low speed until completely combined. The batter will be very stiff. Pinch off pieces of batter and roll into 1" balls. Place one inch apart on prepared cookie sheets and flatten slightly with fingertips.?Bake 8-10 minutes, until a slight indentation remains when lightly touched. Remove immediately from the cookie sheets witha spatula and cool on wire racks. In small glass mixing bowl, combine cream cheese and butter until completely blended. Gradually add sugar and vanilla and mix at low speed until icing is smooth. Spread icing on half the cookies and top with remaining cookies. Store in refrigerator in large resealable plastic bags. Makes about 4 dozen.
Coca-Cola Salad
1 pkg. cherry gelatin
1 pkg. strawberry gelatin
1 large can crushed pineapple, drained
1 (3 oz. pkg.) cream cheese
1 can Bing cherries, drained and pitted
1 cup nuts
2 regular size Coca-Colas
Heat juice drained from pineapple and cherries. Pour over gelatins, stirring until dissolved. Cool. Mix pineapple, cheese, cherries and nuts. Add to gelatin mixture; blend well. Add Coca-Colas and blend again. Chill until firm.
Pimiento and Cheese Cheeseball
(Connie Arrington)
16 oz. pimiento and cheese
1 lb. sharp cheddar cheese
3 (8 oz.) cream cheese
2 tsp. garlic powder
1 tsp. red pepper
1 1/2 cups pecan
3 Tbsp. worcestershire
Mix cheeses, then add other ingredients. Roll in paprika. Makes two cheese balls.