Chicken Parmesan was the first main dish Amanda Collins Vanlandingham of Bruce learned to cook, saying she and husband, Jay, "lived off of it for awhile!" She still makes it sometimes and their kids, Trey, almost 7, and Dani, 2, love it.
Sweets and any kind of bread are her weaknesses, she said, and she loves her mom, Carolyn Collins' mushroom bread, but says hers doesn't turn out the same. She makes biscuits from scratch, which she learned from her mama, and also waffles. She enjoys baking cupcakes and cakes, and she and Carolyn, who loves to experiment when cooking, enjoy making marshmallow fondant and working with it.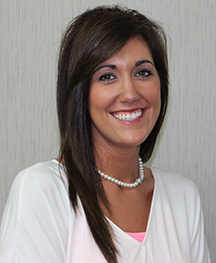 Amanda calls Carolyn for information sometimes when cooking and she favors cookbooks when looking for recipes. "I will buy a cookbook just to look at it," she said, saying she has a variety of them "from  Paula Deen to Relay For Life". She says she will usually follow a recipe through the first time, then add her touches.
"A happy kitchen is a happy family!" is what her grandmother, the late Inez Collins,  always told her, and Amanda says Mamaw Inez always kept enough food on the table to keep everybody happy. "Full was not enough! She wanted you to eat everything." Amanda stayed with Inez when she was young and she enjoyed learning to make teacakes at her house.
She always takes two of grandmother Flo Ella Rogers' favorites, vegetable casserole and grape salad, to family gatherings at Flo Ella's home, one of which will be this Sunday for Mother's Day. She said she is also a great cook and one of her favorite's is Flo's boiled cabbage. Amanda also loves her dad, Jim  Collins' grilled steaks, and describes her mom's dirty rice as "off the chain."
She and Jay like to entertain at their house, and says whatever the meal, the menu has to include mashed potatoes for all the kids who are there.
Chicken Parmesan
(Carole Tims)
4 boneless and skinless chicken breasts
1 egg, slightly beaten
1/2 cup seasoned bread crumbs
2 Tbsp. margarine
1 small jar spaghetti sauce (your choice)
1/2 cup shredded Mozzarella cheese
1 Tbsp. grated Parmesan cheese
Flatten chicken to even thickness. Dip chicken into egg, then into crumbs to coat. In skillet over medium heat in hot margarine, brown chicken on both sides. Add spaghetti sauce. Reduce heat. Cover and simmer for 10 minutes. Sprinkle with cheeses. Cover and simmer five minutes or until cheeses melt.
Mushroom Bread
(Carolyn Collins)
1 can mushrooms, drained
1/2 cup mayonnaise
1/4 cup Parmesan cheese
1/2 cup French's onion rings
1 loaf French bread
Mix mushrooms, mayonnaise, Parmesan cheese and onion rings together. Cut French bread into 1" pieces and place combined ingredients on bread. Put under broiler until golden brown.
Mamaw's Teacakes
(Inez Collins)
1 stick butter
1 egg
1 cup sugar
2 Tbsp. milk
1 1/3 cups flour
1/2 tsp. vanilla
Cream butter, sugar, egg and vanilla. Add flour and milk. Bake at 350° for eight minutes.
Cheese Potatoes
(Virginia Vanlandingham)
3 medium potatoes, sliced
2 Tbsp. butter
2 Tbsp. flour
1 cups grated cheese
1 1/2 cups milk
Cook potatoes in salt water until tender. Drain in saucepan. Melt butter. Add flour and stir until smooth. Add milk and cook until thick. In casserole put layer of potatoes, then sauce, then cheese. Continue layers with cheese on top. Bake in oven at 350° until cheese is melted. Makes two layers.
Vegetable Casserole
2 cans Veg-All
3/4 cup chopped onions
1 cup grated cheese
3/4 cup mayo
1 stick melted margarine
1 roll Ritz crackers
Preheat oven to  350°. Mix everything together except crackers and put into an 8×8 dish. Crush crackers and cover the top. (Sometimes I mix some extra grated cheese in with my cracker topping to spread over.) Bake for 30-35 minutes or until onions are tender.
Apple and Banana Salad
5 large red apples
3-4 ripe bananas
2 cups of mayo
Chop apples and bananas up and mix mayo in. Add more mayo if needed, and  chill  for about two hours before serving.