Turducken? Allen Dearing, pastor of Lewis Memorial Methodist Church in Calhoun City, has made it once, but says he probably won't again. Turducken consists of deboned chicken, duck and turkey, with a layer of dressing between each.
He said it was very tedious, and actually took two days to prepare with all the de-boning, and his family did not really like it because it was so spicy.
Dearing likes cooking for Thanksgiving and Christmas, and he has been brining turkey about four years now, after watching a Food Network "How to Cook a Perfect Turkey" video. "I used to throw all the white meat away after the meal as I thought day old white meat was so dry as to make it uneatable. With brining we fight over leftovers for days, it is so juicy. You can also cut off an entire breast whole and freeze it.  When thawed, it is as juicy as any  you will get in a store," he said.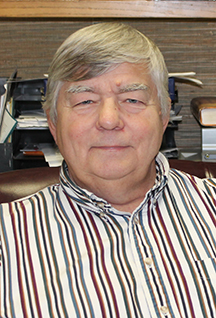 Making dressing has been experimental, but he likes a lot of sage and prefers to use Jiffy mix made with chicken broth, but says his wife, Debra, doesn't like the sweet taste. For Thanksgiving, he also likes to serve green bean casserole, and adds sauteed almonds to the French onion ring topping. Debra makes egg custard for her side of the family, and he likes to include a fruit salad, and the whip cream cake.
He started cooking as a student in college at Mississippi State with basic things like hamburgers and steak. He calls himself a "do it the easy way" cook, and is a more of a "taste okay?" cook, than a measurer. "I have more recipes collected than I can ever cook," he said. He has a Master Cook and One Million Recipes program on his computer, and will sometimes get a recipe from someone on Facebook. He likes seafood, but not spicy food, cheese  or Mexican.
He shared a recipe for Leftovers Stew, "In my house there is only my wife and I usually.  So when we cook vegetables we usually have a handful left over–not enough for a second day, but too much to throw away.  We pour them into a 'butter tub' and freeze, adding to it in the future until full.  We then thaw it out and put it into a crockpot along with a can of diced tomatoes, stew meat, diced potatoes, thin sliced petite carrots and some okra. I add garlic salt, seasoning salt, pepper and minced onion to taste.  Water or beef broth is added to cover all the ingredients and then we simmer it on high  a few hours. We can eat off it for a few days and thus avoid throwing out vegetables."
One of his biggest cooking experiments has probably been a Passover meal in which he got recipes from the internet, and members of the church family made and brought some of the dishes. He has also cooked lamb to let one church group try.
He and his wife do a lot of traveling–in the U.S. and out of the country. In a trip to Scotland, they tried Haggis, which is sheep stomach cooked with the intestines, and he commented that it was very spicy. They have hosted several exchange students and in visiting some of them, have enjoyed different cultures of food in their homes.
Whip Cream Cake
1 box white cake mix
1 qt. heavy whipping cream
2 cups of sugar
Red and green food coloring
Mix white cake mix according to instructions on box. Pour half the batter into a 9" cake pan.  Add red food coloring to the other half of the batter and mix. Pour into another 9" cake pan.  Bake according to directions on box.  Let cool very well after baking. Meanwhile pour heavy whipping cream into mixing bowl (realize it will at least double in size when whipped) and add green food coloring and sugar to it.  Whip with a mixer until VERY thick and does not fall off spatula. Cut the two very cool cakes in half horizontally to form four layers. Alternate layers of cake and whipping cream and then other color back and forth, thus ending up with a red, white, and green cake when sliced. Frost outside of the cake with the rest of the whipping cream and place in refrigerator overnight.  Best if left overnight so whipping cream can absorb sugar and soak into cake.
Roasted Turkey
Make sure turkey is completely thawed.  Soak overnight in the following mixture:
3 gallons of water
3 cups of Kosher salt (iodized salt  gives it  tangy flavor)
1 cup sugar (helps keep salt  taste down)
Plus whatever flavor you like – I use garlic powder, onion powder, black pepper, seasoning salt and sage (about 3 Tbsp. of each) and a few bay leaves (you could use other things also depending on what flavor you want the turkey to taste like.)
Put in lots of ice cubes to keep it cold and not let it spoil.  (I use a 5-gallon Igloo water cooler for soaking.) When ready to cook, remove from brine and wash off excess water and salt.  Pat dry and then rub a little olive oil on the skin and rub in dry seasoning made up of the same above powders (minus the bay leaf). Put in on rack of roasting pan (to hold it off the bottom of the pan) and put into a preheated 500° oven to brown and seal in the juices for 45 minutes.  Cover breast with  layer of foil and reduce temperature to 350° until done (internal temp of 161°).  I like to use large turkeys so we can have leftovers, so a 22 pound turkey will take about 2 ½  hours after the heat is turned down.  Let it rest 30 minutes and then carve it.  (Resting allows the juices to be absorbed back into turkey.  If you cut it immediately most of the extra juice will run out on your cutting board.)
Country Fried Corn
10 slices of bacon (can substitute bag of real bacon bits if in a hurry)
1 stick of butter
2 cans of white shoe peg corn
drained well
2 cans of yellow creamed corn
Cook bacon to crisp in a large frying pan and set aside. Leaving the grease in the frying pan add the stick of butter and let it melt. Add shoe peg corn (drained very well) to the skillet and "fry" over medium heat until slightly dry. Add creamed corn and crumbled bacon (or bacon bits) and let simmer on low 30 minutes.  Can add salt and pepper to taste.
Ranch bacon dip
1 packet ranch dressing powder
1 cup of mayonnaise
1 cup sour cream
1 bottle of Bacos
Mix all ingredients thoroughly and let cool in refrigerator before serving
Easy Banana Pudding
8 Bananas
2 bags Nilla wafers
3 large boxes of Jello brand no sugar instant Vanilla Pudding mix
6 cups of 2% milk
Large tub of cool whip
Peel and slice bananas into a large pan alternating layers of bananas and Nilla wafers.  Mix 2 cups of milk with one box of pudding mix in a mixing bowl and stir until well mixed and pour over layers.  Repeat for other two boxes of pudding.  Let set in refrigerator until jelled.  Then put cool whip on top.  To make it look more fancy line the pan around the edges with nilla wafers standing on end and take some of the wafers and crumble them up and spread on the top.
Easy Peach Cobbler
2 cups fresh sliced peaches (or one 29 ounce can of sliced peaches, drained)
1 cup Bisquick mix (all purpose flour may be used, but Bisquick is the best choice for flavor)
1 cup of milk
1/2 teaspoon nutmeg
1/2 teaspoon cinnamon
1/2 cup butter, melted
1 cup of sugar
Preheat oven to 375 degrees Fahrenheit
In an 8 x 8 baking dish, stir Bisquick mix, milk, nutmeg and cinnamon together until thoroughly mixed. Stir in melted butter. In a medium mixing bowl, stir sugar and peaches. Spoon peaches over the cobbler crust.Bake for one hour or until crust is a golden brown. Serve warm and enjoy!