"Before my father, J.R. Penick Sr. died in 1996, I put together a recipe book for his Wood family members, whose ancestors are originally from Martin, Tn. (where their annual reunion is held,)" said Mary Sue Penick Wells of Vardaman. I received recipes from all over the U.S. and so much family history from each person that I included, along with what I had from my dad."
"Two years ago I did the same for the Wells family. In each of these books I included a few pages of hints from my mother's cookbook she received with her first Home Comfort wood burning stove in 1922," she said.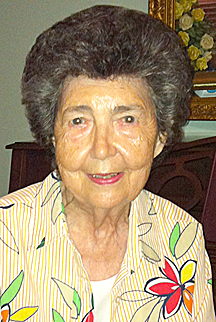 She did not learn to cook on one of these wood stoves because while growing up she did the house cleaning and ironing, and her older sister did the cooking. Once when her mother did tell her to make cornbread, she did so by instructing her to "use a handful of this and a handful of that!" No measurements were used, so Mrs. MarySue said she really did not cook until she and Bro. Billy married.
The recipes she submitted are ones she included in the "Wells Family Kitchens." The Hot Dog appetizers are a favorite of her grandchildren and great-grands, and "the cornbread pie is one of my oldest recipes. I made this a lot when our four sons were still at home–instead of two cups of water, I sometimes two cups of home canned tomato juice," she said. "I have several coconut cake recipes, but I like this one best. It is especially easy to make if you don't have condensed milk on hand, and I use Splenda in place of sugar in the green bean casserole recipe."
She says she has about 50 cookbooks, and her that her Bell's is broken in two.
She has made a lot of dishes for a lot of church lunches– "I've done a lot of cooking!" The Midway Memorial is potluck and she usually makes casseroles for any church gatherings, saying that her casseroles are a favorite of Whit Casey.
She was 19 when she began teaching piano (and rhythm band and an octet) at Vardaman. She is now 81, and still plays a little piano and does a little cooking.
Cornbread Pie
1 lb. ground beef
1 large onion, chopped
1/2 cup green pepper, chopped
1/2 stick butter or margarine
1 can tomato soup
2 cups water
1 tsp. salt
1/2 tsp. black pepper
1 Tbsp. chili powder
1 cup fresh or canned whole kernel corn
Saute onion and green pepper in skillet in 1/2 stick of butter. Remove and saute ground beef until grey-looking. Combine the two mixtures and add soup, water, corn and seasonings. Mix well and simmer for 20 minutes. Pour into buttered oblong casserole dish, filling it about 3/4 full. Cover with following topping*:
3/4 cup corn meal
1 Tbsp. flour
1/2 tsp. salt
1 Tbsp. sugar
1 1/2 tsp. baking powder
1 egg, beaten
1/2 cup milk
1 Tbsp. butter
Sift dry ingredients together and add beaten egg. Add milk and melted butter. Cover meat mixture with this topping. Bake about 20 minutes at 400° until browned. (*In place of topping you can use a package of cornbread mix. Mix as directed on package and pour over mixture in dish.)
Marinated Green Bean Casserole
3 cans whole green beans, drained
1 large onion, sliced
6 slices bacon
5 Tbsp. sugar
6 Tbsp. white vinegar
In a casserole, place layer of 1 1/2 cans green beans, layer of onions, and layer of remaining beans. Cook bacon until crisp. Crumble it, set aside and reserve pan drippings. Combine sugar and vinegar. Pour sugar mixture over beans and onions. Pour drippings over all. Refrigerate eight hours or overnight. Bake at 350° for 30 minutes. Remove from oven and top with crumbled reserved bacon. Bake another 15 minutes.
Hot Dog Appetizers
1-8 count pkg. jumbo hot dogs
1 lb. bacon, cut in half
1 cup brown sugar
Cut each hot dog into four pieces and wrap each piece in a half strip of bacon. Secure with toothpicks. place them in baking dish or foil roasting pan for easy cleanup. Sprinkle liberally with brown sugar. Bake at 375° for 20-30 minutes. Pour as much of the grease off as possible, turn them over and sprinkle again with sugar. Cook another 15-20 minutes or until bacon is cooked. Pour grease off as needed. Makes 32 appetizers.
Coconut Cake
1 white cake mix
1 cup sugar
1 cup milk
1/2-3/4 tsp. coconut extract
1 tub (8 oz.) Cool Whip
1 pkg. flaked coconut (I use 6 oz. frozen)
Bake cake mix as directed in  9×13 pan. While still hot, stick paring knife blade into cake in several places. In saucepan, heat sugar and milk to boiling, stirring constantly. Remove from heat and add coconut extract. Pour sauce over hot cake. (I sometimes add Splenda to the milk instead of sugar. Mix well and do not boil. Another recipe I have uses one can of Eagle  Brand condensed milk to pour over the hot cake.) Let cake cool. When cake is cool, spread Cool Whip mixed with half of coconut over cake. Sprinkle top with remainder of coconut. Refrigerate before serving.
Mixed Vegetable Casserole
Cook 16 oz. pkg. frozen mixed vegetables according to directions. (I use California blend–broccoli, carrots, cauliflower). Drain and put in bottom of casserole dish.
Second layer:
Mix 1 medium onion, chopped
2 cups grated cheese
1 cup chopped celery
1 cup mayonnaise
Top layer:
1 roll Ritz crackers, crushed with one stick melted margarine.* Bake at 300° for 30 minutes. *I put the crushed Ritz crackers over the casserole and then  spoon the melted margarine evenly over the crackers.
Cornbread Dressing
1 onion, chopped
3 ribs celery, chopped
1/2 stick butter
1-6 oz. box Stove Top stuffing, chicken flavor
1 can cream of mushroom soup
1 can cream of chicken soup
1-10" skillet cooked cornbread
2 tsp. poultry seasoning
Chicken broth, warmed
In large pot, combine onion, celery and butter. Saute vegetables until soft. Add Stove Top stuffing mix and the soups. Add crumbled cornbread to soup mixture while cornbread is still hot. Add some warm broth, one cup at a time, to cornbread mixture. It make take two cans of broth. Pour mixture into greased 9×13 pan. Bake in preheated 400° oven until very brown, about 45 minutes. Dressing should be slightly firm, but very moist. (I make this dressing sometimes for a different flavor.)