The Calhoun County Journal was awarded Best Website among all Mississippi weekly newspapers for the second time in three years last weekend in the state press association's Better Newspaper Contest.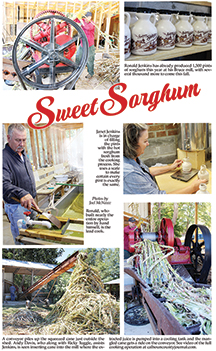 The Journal's website – calhouncountyjournal.com – which features a variety of breaking, spot and in depth news articles; sports coverage involving anything Calhoun related; columns from six different syndicated writers; obituaries posted daily; features on some of Calhoun's most interesting people; local videos; archives of recipes; classified and public notice sections; and more currently has more than 700 subscribers.
"We put a lot of work into making our website informational, entertaining and timely," CCJ Publisher Joel McNeece said. "To be recognized statewide for our efforts is a tremendous honor."
The Journal also earned several awards for The Journal's weekly print edition. McNeece was recognized as one of the best "commentary" columns among Mississippi weekly newspapers.
The Journal, because of its circulation, competes among the largest weekly newspapers in Mississippi.
McNeece was also awarded for a pictorial series from last October showing how sorghum is made at Ronald and Janet Jenkins farm west of Bruce.
The Journal's coverage of the Egg Bowl Run last November was also honored for the third consecutive year in the general news photography category.