Wins tonight from Bruce and Calhoun City would set up the first all Calhoun County North Half Championship game since 1996.
Bruce and Calhoun City met in 1995 and 1996 in the Class 2A North Half title game. Calhoun City won the '95 game 6-0, advancing to Jackson where they were defeated by Taylorsville. Bruce won the '96 game 10-7 and followed it up with a win over Ackerman in the state championship at Jackson.
To get the rematch next Friday, Calhoun City, 9-4, will have to beat 12-1 Eupora. The lone loss for the Eagles was a 27-6 defeat at the hands of the Wildcats in September.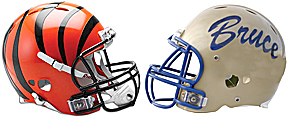 "They're playing a lot faster and harder since we played them," Calhoun City Coach Perry Liles said of the Eagles. "That was early in the season. They're a senior football team that's really playing well right now."
Eupora, who is led offensively by RB Vandy Smith. He's rushed for 605 yards and eight touchdowns. Lazerick Davis has rushed for 558 yards and four touchdowns. QB Trey Pittman has completed 96-188 passes for 1,422 yards, 16 touchdowns and five interceptions.
Eupora  advanced in the playoffs with a 49-0 first round win over Coahoma County and a 36-8 victory over South Delta last week.
"They're a well-coached team that presents some challenges," Liles said. "We're the only two-seed left in the playoffs so we feel like all the pressure is really on them."
Calhoun City is led by sophomore QB Chakel Gates who has rushed for 1,190 yards and 19 touchdowns and passed for 1,017 yards and nine touchdowns. He's had 10 interceptions.
The Wildcats rushing attack is also bolstered by juniors Cartin McBride (650 yards) and Lavarious Varnado 587 yards).
For Bruce, 10-3, to advance to the North Half title game, they will have to defeat defending state champion West Bolivar, 11-2.
The Eagles are a predominant rushing team led by senior RB Kalio Moore who has rushed for 1,099 yards and 16 touchdowns.
"We have to get to him early," Bruce Coach James Ray said. "He's running as good as I've ever seen him."
"He's not all," Ray said. "They have a couple of other really good backs too."
Senior Trevoris Hampton has rushed for 795 yards and 18 touchdowns. Senior William Lloyd has 611 rushing yards and eight touchdowns.
"A key for us will be stopping the big play on defense," Ray said. "On offense we will have to sustain drives and keep their offense off the field."
That will fall on senior QB Davis Brown who has completed 146-232 passes for 2,623 yards, 35 touchdowns and nine interceptions.
His top targets are senior Shaq Bush, 51 catches for 881 yards and 10 touchdowns; senior Rashad Turner, 32 catches for 676 yards and 10 touchdowns; and junior Donta Armstrong, 21 catches for 549 yards and eight touchdowns.
The Bruce ground game is led by senior Zay Armstrong who has rushed for 558 yards and six touchdowns. Sophomore Zack Cruthirds has 361 yards and five touchdowns.
If Bruce and Calhoun City were to win, the Trojans would host the North Half Championship. Bruce would have to travel to Eupora and Calhoun City would have to travel to West Bolivar in other scenarios.