The snowfall appears about done, but the dangers are still plentiful around the county with icy, slippery roads.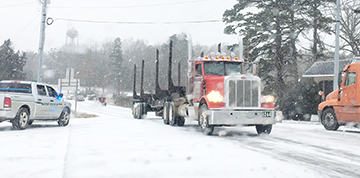 The sheriff's department, MDOT, town and county workers were out early this morning working numerous accident scenes with vehicles sliding off the road. Many large trucks were stranded in Pittsboro  briefly, unable to make the climb up Goar Hill and the icy curves around the courthouse.
The sheriff's department has enacted a curfew for tonight from 9 p.m. until 5 a.m. Wednesday wanting everyone to remain off the roads.
Calhoun County Schools have also announced they will be closed again Wednesday and will decide some time tomorrow if or when they will reopen on Thursday.
Calhoun City and Derma fire departments were called out to a house fire on CR 419.
Temperatures are to remain below freezing until Thursday meaning the snow and ice that has accumulated is likely to hang around a few days keeping roads dangerous.
The county courthouse has closed until 10 a.m. Thursday.
Since the snowfall stopped around noon, there have been numerous more accidents reported. Two cars were reported off the road in Bruce, and another two in town.
An 18-wheeler was reported off the road in Vardaman. More recently a car slid off Hwy. 8 near Sabougla into some water with a person trapped inside. Firemen are on scene now working that accident. As of now there have been no reports of any injuries from the many accidents.