Archives for October 2017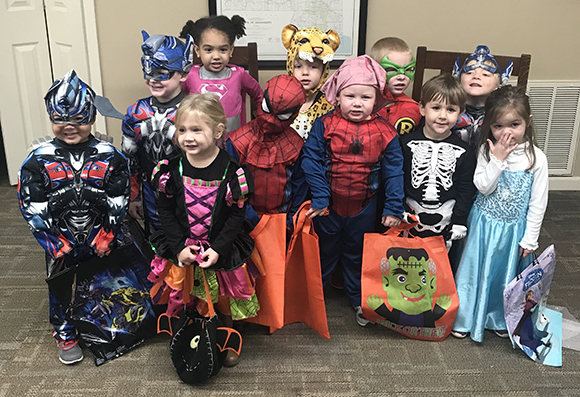 Gayla Bennett's Kreative Kids Daycare was the first to visit The Journal office today trick or treating.
Calhoun City will host the annual Leonard Holland Classic Saturday, Nov. 4 with 14 boys' and girls' teams in action including Bruce, Calhoun City and Vardaman.
[Read more...]
Calhoun City Policeman Juston Robertson is home recovering from injuries sustained in a four-wheeler accident last week.
[Read more...]
Lola Adams Fraiser, 77, passed this life on October 29, 2017 at N.M.M.C. in Tupelo. She was born December 21, 1939 in Kilmichael, to  Rabon Adams and Joyce Jewel Guthrie Adams. She was in insurance sales representing American General Life Insurance before she retired. She was a devoted member of The Church of God of Prophecy in Tupelo. She was preceded in death by her parents and her daughter Belinda Joyce Thomas. [Read more...]
Martha Lounez Harrelson Vaughn, 88, of Grenada, passed away Wednesday, Oct. 25, 2017 at her residence. She was born August 9, 1929 in Derma to Hollie Dean and Lorena Calder Harrelson. She was a retired bookkeeper and member of First Baptist Church in Grenada where she taught in the children's Sunday school department for over 30 years. [Read more...]
Recent inspections of sewer lines in Bruce by the gas company's camera trucks have revealed nearly 10 breaks in lines around town from the boring process used during the installation of fiber by contractors with the telephone company.
[Read more...]
Fairy Lavonne Patterson, 75 passed away surrounded by her family Sunday, Oct. 29, 2017 at Baptist Memorial Hospital-North MS in Oxford. She was born August 30, 1942 in Oklahoma City, Ok., the daughter of Otho Oliver and Fairy Lee Wilhite Oliver. [Read more...]
Alice Faye Brower, 63, passed this earthly life, Saturday, Oct. 28, 2017 at her home surrounded by her loving family. She was born March 3, 1954 in Water Valley to John G, Brower, Sr. and Oyer Olline Cofer Brower. Alice Faye was a graduate of Bruce High School class of 1972. She worked for Borg Warner in Water Valley as a quality assurance technician until her health declined in 2015. [Read more...]
SMW Manufacturing is taking over operations at the former Caterpillar facility in Lafayette County. The company plans to invest in excess of $15 million and hire up to 50 employees, comprised of predominantly former Caterpillar employees, by the end of 2018.
[Read more...]
Four Calhoun County residents were arrested on drug and other round up charges last night and this morning and three additional drug arrests while serving warranted on the four.