Archives for April 2015
Holmes Community College had its second annual Open Crappie Tournament April 4.
There are surely celebrations in heaven today, as Charles Franklin Fail passed from this earth on April 27, 2015. "Charlie Boy" was many things to many people: loving husband, gracious father and grandfather, respected and adored employer, and a friendly, smiling face to all he encountered. Above all, however, he was a faithful Christian; confidently, he is now at rest with his heavenly Father. In our culture of comfort, not many know how to prepare for dying. But that is exactly what Charlie Fail made a practice of doing each and every day as he prepared for heavenly, rather than earthly, riches. He was lifelong member of Bay Springs Baptist Church, a church founded in part by his parents, and was ordained there as a deacon on January 20, 1974. His life on this earth was never boring; his accomplishments were many and his legacy will serve as an inspiration to generations.  [Read more...]
Sandra J. Byars, 68, of Calhoun City died Tuesday, April 28, 2015 at North MS Medical Center in Tupelo. She was born October 4, 1946  in Calhoun City, the daughter of Robert Whitworth and Nettie Maxine Hubbard Whitworth.  She was retired from Kroger and was a member of Pleasant Hill Baptist Church. [Read more...]
Ruby Dean Tedder, 86, of Vardaman, died Wednesday, April 29, 2015, at North Mississippi Medical
Center in Tupelo.Born August 11, 1928, she was the daughter of the late W.H."Buck"  Langford and the late Edna Baker
Langford. She was the wife of the late George Edward Tedder. She was a devoted  homemaker and member
of Midway Baptist Church.  [Read more...]
Poll workers were announced this week for the May 12 special election for U.S. House of Representatives 1st Congressional District.
Several from Calhoun County have been chosen to play and coach in the NEMBCA Basketball All Star Games at ICC June 6.
When the E.L. Bruce Company established their sawmill in Calhoun County in 1927, they built a railroad connecting their mill to the Mississippi Central Railroad at Coffeeville.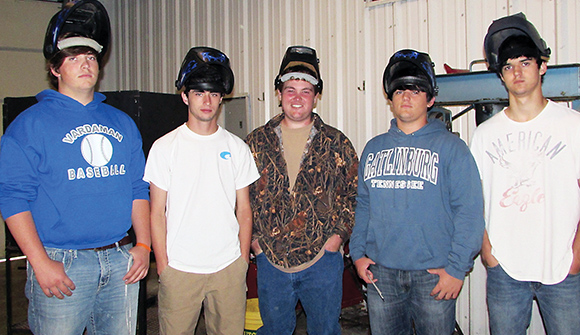 The North District FFA Contest was held recently at Mississippi State University.  Award winners in welding included Vardaman students, from left, Hunter Spencer, Allen Hendrix, Buck Fortner, Will O'Barr and Remington Crutchfiel.
An $80,000 grant from the Mississippi Department of Environmental Quality will allow the waste tire grant collection program to continue in Calhoun County.
[Read more...]
A Derma man plead guilty to murder today and was sentenced to life in prison.