Calhoun County Supervisors are considering paying $1,000 per month for someone to get their sewerage treatment facility in Pittsboro in good standing.
The county has struggled for years to retain a Class II Operator to manage the facility that serves county offices in Pittsboro.
Larry Bratton, of Calhoun City, was the most recent operator employed by the county, but he has resigned.
County Engineer Chodie Myers said it is "hard to find" anyone willing to take the job, but he did know of Bert Coker, of Starkville, who was willing to get the system back in good standing over the next six months at a price of $1,000 per month.
"I know that's getting to be a lot of money, but there's just not many of them around to do that kind of work," Myers said.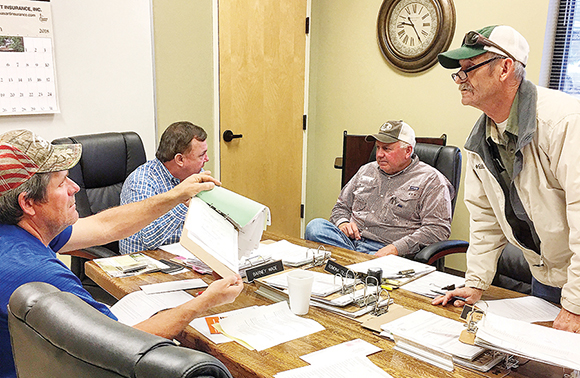 Board President Barney Wade asked Myers about the county looking at putting in a sewerage lagoon as a long term answer.
"That's expensive, probably cost $250,000, but the bigger issue would be where to put it," Myers said.
Supervisor Gwin Longest said at least by hiring Coker, a professional wastewater operator, he should be able to get the system right over the next six months and then the county can re-evaluate.
The board asked Attorney Sonny Clanton to look at Coker's contract and they could approve it at the March 14 meeting.
Trent Barnett with the MSU Extension Service also met with the board introducing Katelyn Bailey as the new secretary replacing Emily Rennie. Barnett said the position opened by the resignation of Stephanie Hitt is not likely to be filled.
"The budget keeps getting worse with Extension," Barnett said. "When Charlie Fitts retired in 2010 we didn't fill that position. Now we have another vacant position that doesn't sound like there will be funding to fill that."
"Our programs have grown," he said. "We have a lot of new people signing up for 4H. I feel like we're doing more with less. It's taking extra hours, but I don't think our programs have suffered. We're just working longer hours."
Barnett noted that their budget was cut five times last year and there are 22 counties with just one agent.
"There are a lot of vacancies right now," he said. "We would like to have some help, but it doesn't look like any of the open positions will be filled."
Barnett also presented a report on the rental of the multi-purpose building for 2017 saying they nearly doubled their revenue to $11,480.
"Changing the policy so that renters must pay in advance really helped reduce cancellations tremendously," he said.
He also turned in a report for the horse arena that showed 42 rentals for the year generating $1,700.
Barnett concluded his presentation by informing the board that two of the four air conditioning units on the west side of the building where the renovation is scheduled to take place are bad.
"We had planned to remove and reinstall them during the project, but two are faulty now," Barnett said.
"I can look at the money when we get a quote to see if we can include (replacing them) in the project," Myers said. "We might have enough for one. I doubt for two."
Other items from the meeting:
•Board agreed to pay Carla Orr to help the week of county fair.
•Board authorized Wayne Stone to transfer sick leave to Jacqueline Thornton.
•Board approved travel expenses for them to attend MAPDD Conference in Biloxi and MAS Minority Caucus in Holly Springs, both in April; for Chancery Clerk Romona Tillman to attend Spring Educational Workshop in Jackson in April; and for supervisors, purchase clerk, board attorney, county engineer and chancery clerk to attend MAS convention in Biloxi in June; two dispatchers to attend conference in Hattiesburg; Wayne Stone to attend flood plain conference in Natchez.
•One quote for lease purchase quotes on a John Deere tractor and bush hog from Hancock for 3.2% was opened.
•Board approved resolution to pay off CAP loan of over $2 million for hospital project to save county money on interest.
•Lease purchase bids for the purchase of two new sheriff vehicles were opened from Hancock 3.07% and BancorpSouth 3.23% for three years.
•Circuit Clerk Carlton Baker received permission to contract with a shredding service for $275 for voter registration documents that are beyond the time frame required to be kept.