By JOEL McNEECE
A Pittsboro woman was transported to the hospital this morning after a wreck on Hwy. 9 in Bruce.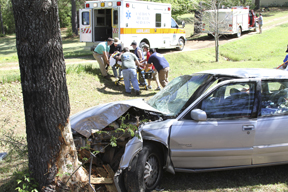 Juanita Williams, of Pittsboro, was transported by ambulance to the hospital for non-life threatening injuries. Her sister, Diane Armstrong, of Fulton, was driving the car and walked away from the crash.
Armstrong said the brakes failed as she was coming through the curve in front of Glenda and Billy Fred Aron's home. The car slid down the embankment and crashed into a tree. Both airbags deployed.