By PAM McPHAIL
When Jasper Lewis McPhail graduated from Slate Springs High School in 1948 he was torn between pursuing a career in medicine and missionary work. It didn't take him long to realize it would be the combination of the two that would take him around the world giving him the opportunity to serve his God through his medical skills.

He retired as a cardiovascular surgeon, but few in his profession had given more far-reaching service or had received more recognition for his skill than he.
When but a small boy growing up in Slate Springs, McPhail's parents, Jim and Alberta Windham McPhail, along with his grandparents Mr. and Mrs. Albert Windham, made sure that his education was priority. According to McPhail, the Windhams had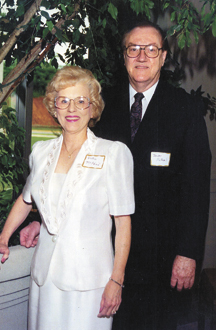 their own library filled with all the great classics. Before he was even school age, his mother was teaching him both Latin and Greek. Both his maternal and paternal grandparents lived within a short walk of each other which gave him and his siblings, Earlene and James Albert, the best of all worlds. Their days were filled with gathering fresh fruit from the orchards, reading, and learning how to be self-sufficient on the farm.
"I was so fortunate to have a loving family who instilled in us Christian values. From the time I became a 'sunbeam,' the church was real important to me," McPhail said. "I read the Bible in its entirety when I was 10 years old and I read it every year for several years thereafter."
Just as McPhail was getting ready to go off to college, the family learned that his mother had cancer. She wanted her children to continue with their education and insisted he not delay college. He knew that his family couldn't help him financially with college, but he was determined to pursue his dreams and knew that he himself was capable of working his way through. He enrolled in Clarke College, and after his freshman year his mother passed away. Her wish was that she would live long enough to see her youngest, Earlene, graduate from high school. Earlene graduated shortly before her death and had begun attending a business school in Memphis. The oldest sibling, James Albert, had joined the service.
Looking back over his life, McPhail said although he came from a very rural area he received a very good education.
"There was a lot of happiness in our home and in the community," McPhail said. "Although it was a poor community, we had some of the best teachers one could find anywhere."
He earned the faculty award for most outstanding student and was named the valedictorian at Clarke in 1949, and received the athletic award as Most Outstanding Athlete in basketball. He also served as co-editor of the college annual. He then went on to obtain a B.S. degree in chemistry from Mississippi College where he graduated with honors, was named to Who's Who in American Colleges and Universities, and Summa Cum Laude. He was editor in chief of the college newspaper and received the English Literary Criticism and Creative writing awards. In addition he graduated in the top two percent of his class.
He continued his education by obtaining his medical degree from Baylor University where he also received the Surgery Thesis
Award and was listed in the top 10 in his senior class. It was at Baylor that he met his wife, the former Dorothy Binford of Memphis. She became a certified nurse anesthetist. They were the first missionary couple appointed to India by the Southern Baptist Foreign Mission Board. Together they served four years at Christian medical College in Vellore, India. McPhail helped develop the open-heart and vascular programs, taught medical students and operated residency program for training thoracic and cardiovascular surgeons. Dorothy worked with her husband in the hospital and also enjoyed sharing the universal language of music by playing the organ in the hospital chapel, directing choir and giving piano lessons to some of the staff members and friends.
One of McPhail's greatest achievements in India was being responsible for getting government permission to build a Baptist hospital in Bangalore, South India. In addition he wrote medical articles which have appeared in national and international journals of surgery. While in India he also authored an adult study book, "Beneath The Himalayas," which was used by Southern Baptists in the 1966 Lottie Moon mission study. McPhail traveled over 300,000 miles teaching the study.
He and Dorothy have since participated in mission trips to such countries as Russia, China, Romania, Philippines, and Guatemala.
Their professional expertise has taken them far and wide. One of his most memorable was when he served as the consulting physician to the late King Faisal of Saudi Arabia at the time of the king's assassination. He personally tried to save his life after the king had received a fatal head wound.
He also served with the University of Arkansas School of Medicine where he was an associate dean for clinical affairs and associate professor of surgery. While there Dorothy served as director of cardiopulmonary education for nurses of the Arkansas Regional Medical Program. She has published works in text books, journals, etc. She was named Outstanding Woman in Arkansas in 1974 (Hillary Clinton was runner-up).
McPhail also was associated with the American Indian School of Medicine as dean and professor of surgery; Phoenix Indian medical Center as a consultant and thoracic and cardiovascular surgeon; School of Medicine at Oral Roberts University in Tulsa, Oklahoma where he also served as chief of surgery and director of cardiothoracic surgery at the City of Faith Medical and Research Center. He also continued his medical practice at St. Paul's Hospital, Medical Arts Hospital and Medical Cities Hospital, all in Dallas.
"I have been one of the luckiest people on earth," McPhail said. "There was never a day I didn't love what I was doing. My life has been so full. I was blessed with a wonderful wife and three wonderful boys. Dorothy and I have always had busy lives, but we always made time for our family. I just wish everyone could have had the life I have had."
In addition to making a lasting contribution to the field of medicine, the McPhails donated some 91 artworks to the Samuel Marshall Fore Art Gallery in Aven Hall on the Mississippi College campus in Clinton. They began collecting the masterpieces a few years before retirement with the plan to transfer ownership to MC as a tribute to the contribution the college made to McPhail professionally and personally. In presenting the collection, McPhail, a 1952 MC graduate, said he had always had a great admiration for the college art director Sam Gore, a native of Pittsboro.
"I've known him for over 50 years and he's always been an inspiration to me since I too am a great lover of art," McPhail said. "He has made an invaluable contribution through his sculptures and paintings. Art is like music. It speaks to the soul and has the capacity to awe and thrill beyond words."
He and Dorothy have collected the works of Salvador Dali, Yacov Agam, Marc Chagall, and others.
Retiring for the McPhails just means doing things a little differently. He and his wife are active in their church and community and are busy with public speaking engagements. He continues his interest in writing poetry and researching genealogy.
"My grandfather, John McPhail, a farmer and minister, always said any Scot worth his salt should know his ancestry as far back as 20 generations," McPhail said. "I don't think there is such a person as a self-made man. I am a composite of the genes from past generations of our ancestors."
He spends much of his time speaking to young medical students as well as school students encouraging them to follow their dreams. McPhail, who worked his way through college and medical school, said that when he went to Baylor one of the administrators asked him where he was going to get his funding for school.
"I told him my father would provide for me," McPhail said. "I never told him I was speaking of my heavenly Father. Even though we were so rich in love and Christian principles, my family was not in a position to help me financially with college. That didn't bother me at all because I knew I could make it."
After graduation from medical school, he went back later and received a masters degree in business administration, a degree which he now puts to good use in his financial consulting business.
The McPhails have three sons – Mark, an account executive with Cigna; Gary, a pediatrician at Children's Hospital in Cincinnati; and Keith, who is in marketing of sports events in the Dallas/Fort Worth metroplex. At this writing they have four grandchildren.