By JOEL McNEECE
Idee Dickey could see and hear the dramatic struggle taking place on the beaches of Normandy off the coast of France as his landing craft slammed against the waves as it rushed him and his comrades ashore. It was June 1944, and American forces had undertaken the largest seaborne invasion in history as they stormed Omaha Beach in World War II.

"I've seen a lot of things," Dickey said. "War is a truly horrible thing."
Dickey was raised just east of the Mt. Liberty community in the corner of Calhoun, Yalobusha and Lafayette counties. The son of Sam and Fanny Dickey, his brothers had already been drafted into the war while he remained on the farm to help his father.
He had just married Grace Newsom and they were expecting their first child when his country called on him to come serve in 1941. She would become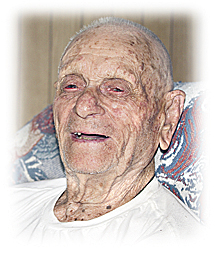 pregnant with a second daughter before he shipped out to England.
He was a member of the 90th infantry as they hit the beaches of Normandy during the D-Day invasion. He worked his way through the surf and across the beach continuing the charge toward the German front lines.
"We fought all day and then we dug in that night," Dickey said.
The next day was more of the same.
"We were shooting and running a piece, and then you'd fall down," Dickey said.
The constant artillery fire never seemed to let up, even at night.
"When we were dug in and those 'Long Toms' were shooting over the top of us..." Dickey said shaking his head. "I promised God then, if he would let me go home, I would serve him."
By day three, Dickey's platoon had moved in close enough to the front lines they could "hear the small arms fire."
"I was a runner for first platoon," Dickey said.
He took off on an order and was immediately shot in the arm and went down.
"A medic came rushing to me and covered my arm and we took off," Dickey said.
He was helped to safety and soon put on a boat back to England with other wounded.
"We even had Germans on the boat with us," Dickey said.
He remained in the hospital for several months where he still couldn't escape the noises of war.
"The planes were flying all over while I was in the hospital," Dickey said. "It was a little nerve racking."
He recovered from his injuries and remained in the military "pulling guard." He was allowed one trip home during the war when word came that his father had died. It was during that time he also saw his first daughter Peggy again and his new daughter Polly for the first time.
After three years in the war, Dickey returned home to Mt. Liberty and the farm. He ultimately bought 184 acres of his own near the intersection of the Pumping Station Road and Hwy. 32.
"We built a house, raised hogs and cows," Dickey said.
Always an avid worker, Dickey would later haul lumber and then purchased a sawmill and operated it before ultimately going to work with Columbia Gulf from where he retired after 16 years with the company.
He and his wife Grace had three other children – Linda, Bobby and Sandra. Linda has since passed away. Dickey's wife Grace died in 1997 of cancer.
"We had a wonderful life together," Dickey said.
At 96-years-old, Dickey remains active when his gout lets him.
"It bothers me from time to time, but I like to get out and mow my yard when I can or tend to my garden," he said. "I worked all my life. I can't just sit around now."
His driver's license is due to expire next month.
"I don't know if they'll renew it for me, but I'm going to try," Dickey said with a wide grin.
He said he doesn't think much about the war anymore, although he admitted when he first got home, the sound of gunshots would bother him.
He emphasized he never forgot the promise he made God when dug in at night on the beaches of Normandy.
"I've made my mistakes, but God has really blessed me," Dickey said as he shed a tear. "He's taken care of me. I've definitely been blessed."