By JOEL McNEECE
Dr. Tom Norman called deciding to retire after nearly 50 years practicing dentistry in Calhoun City the second most difficult decision he's ever had to make. The first, was deciding to become a dentist in the first place.

Norman was born in Bruce where he spent most of his summers in his youth.
"Dr. Shed Davis actually delivered me in the old telephone exchange house," Norman said. "My grandparents operated the first telephone exchange in Bruce."
"Bruce was always a second home for me," Norman said.
He was raised in Calhoun City where he graduated high school in 1953.
"I really enjoyed high school," Norman said. "I had a lot of friends and played football and basketball. We didn't have a baseball team at the time."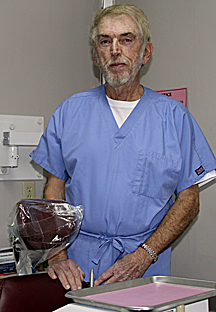 His favorite subjects in school were all science based, and he was debating between going to school to become a doctor, dentist or chemistry professor.
"I really loved chemistry, but decided I wanted to go into a health related field," Norman said. "I visited with Dr. Webb and Dr. Carter Dobbs in Calhoun City and Dr. Herman Smith in Houston to get some advice."
Dr. Dobbs was Norman's family dentist. His best friend Glen Barton's mother also happened to be a hygienist in Dr. Dobbs' office and they routinely visited.
"We would just go to the office and sit around and talk," Norman said. "I loved being in the office. I always liked the way Dr. Dobbs handled his patients. It was very comfortable to me and helped me decide to go into dentistry."
He attended Ole Miss and the University of Tennessee. After completing dental school he practiced with the Idaho Falls dentures specialist, Oxford Dental Care, awaiting his Mississippi license.
"After I completed my boards, Dr. O.B. Crocker from Bruce contacted me about coming to Bruce," Norman said. "He had an office ready for me above a store in Bruce. I agreed to come and then got a call from Herman Smith in Houston who asked if I would be interested in buying his practice."
Norman decided purchasing the existing practice was a better opportunity than starting one from scratch, so he and his wife, Jean Myers Norman, moved to Houston. Smith had said he was interested in pursuing a different career in the medical field.
"I had been working there for a year when I began asking him again when he was going to let me buy it, and he said he had changed his mind," Norman said. "My parents really wanted me to come back to Calhoun City. My father offered to build me an office building and allow me to pay him for it over time, so I decided to come back."
They opened his clinic, located on Hwy. 9 in front of Mark's One Stop, in 1961. Other than an occasional snow storm, he's barely missed a day of work since.
"I've really enjoyed my practice here," Norman said. "The people in Calhoun county are wonderful, caring people. I've made friendships here I will cherish the rest of my life."
Norman's wife Jean has served as general manager and bookkeeper throughout. Gail Baker, of Bruce, has worked as his receptionist for 33 of the 50 years.
Related post: Start at WahroongaDentalGroup.com.au, if you need to know more about tooth care.
"It's really been a joy," Norman said.
Among his many memorable moments was treating a patient one day who was known to have seizures.
"We kept patient histories and he had told us that he had seizures from time to time, so we were prepared for that when he had one sitting in the dental chair," Norman said. "He had never told us, however, that he had a glass eye and when that eye popped out on the tray in front of him, that was something else."
Norman said he's seen many changes during his career.
"I'm very proud of the technological advances we've made in the dental profession. Just check out Delaney Park Dental for the best examples," Norman said. "When I started, I had to do all phases or send a patient to Jackson or Memphis. Technology has made such a difference and now we have specialists everywhere."
Norman said the technology has also helped to lessen patients' fears of visiting the dentist.
"Just saying 'root canal' conjures up images of torture for many people, but really it's a very simple procedure," Norman said. "There are so many misconceptions about the dentist. You mention wisdom teeth and people get instantly scared. If a kid has a bad experience at the dentist they never forget it. So we always worked hard to make it as pleasant as possible."
Those interactions with his patients are among the many things he will miss as he enters retirement.
"I'm programmed for this," Norman said. "My vehicle just wants to come this way every morning."
Norman, 75, is an avid golfer and hopes to do some traveling.
"I have things I want to pursue that I've never had time for with a full-time practice," Norman said.
Dr. Michael Abraham is succeeding Dr. Norman, which he said is making the transition easier.
"I'm very happy to give the practice up to Michael," Norman said. "I wouldn't retire if I didn't feel confident my patients would be cared for."