Bruce native Dr. George McNamee knew what he wanted to do early on with his love for science.
When his beloved dog Ben died when McNamee was in the 8th grade at North Calhoun High School, he turned him into a science project.
"I was inspired to memorialize him," he said. "As a science project, I took his body and lovingly created a skeleton from him. That process was the beginning of my career in veterinary science."
Today, McNamee is Deputy Director of the Surgical Simulation Center at Walter Reed National Military Medical Center and Assistant Professor of Surgery in the Norman M. Rich Department of Surgery at Uniformed Services University of the Health Sciences. He teaches and mentors medical and nursing students, residents and faculty in the proper techniques of surgery and research, leading to improvements in patient care and safety.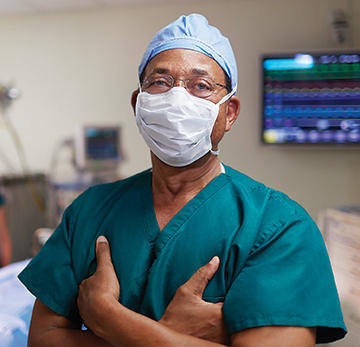 Dr. McNamee, 68, is the son of Nancy and George Allen McNamee Sr. He was born on Dec. 9, 1946 in his parents' home – one of the Bruce Company houses.
"The house was on a dirt road with no name," McNamee said.
His father had only a fourth grade education, but was incredibly skilled with his hands.
"My father worked at the Bruce Company Sawmill doing many jobs and was a favorite among the community," McNamee said. "He raised us to respect the police, pastor and teachers.  He loved to hunt and fish and we ate well, because of his skills and abilities."
McNamee's mother only had a third grade education, but was a "champion homemaker" and was a cook for the community.
"She became the cook at the Bruce Calhoun County hospital," McNamee said. "Everything she made was delicious.  My favorites were her collard greens, fried chicken, cornbread and German chocolate cake. My mother had a green thumb, too. We ate everything we grew. She canned anything extra. We had fish every Friday."
McNamee is the oldest of nine siblings with 17 years separating the oldest from the youngest.
"As the oldest, I was responsible for taking care of all  of my siblings," he said. "I was so involved with my siblings, I got to name one of them. I named my brother Johnny B. McNamee after my love of Chuck Berry's song of the same name."
McNamee described their house as "small, but filled with lots of love."
"All meals were served together around a large table," he said.
Growing up they played basketball, baseball and marbles and their favorite television shows were Rawhide and The Lone Ranger, but TV watching only occurred after all the chores were done which included general household cleaning and feeding a couple of hogs and dogs.
McNamee attended North Calhoun County school for all 12 grades and recalled the early years when they had outdoor toilets.
He loved math and science, fitting given his career, and drew "great inspiration"  from his teachers.
"Other than my mother and father, my greatest inspirations were teachers," McNamee said. "The high school Principal A.D. Goodman, basketball coach Thomas Mason, band director  William Franklin, 8th grade teacher Rosie Lee Daniels, my best friend's mom  Katie Mae Rose and my first grade teacher -  Bernice Helm helped shape my life and career," he said. "Ms. Helm inspired me to be a better reader and motivated me to read better than Geneva Rose and Betty Jean Daniels. I finished third in the class right under our high school valedictorian Betty Jean and salutatorian Geneva."
Among his extra curricular activities was playing drums in the North Calhoun County High School marching band.
"We frequently performed at the town square," McNamee said.
The most popular after school hangout at the time was at Ann Lee Chandler's cafe.
"We enjoyed 25 cent hamburgers and fried bologna sandwiches," he said.
When he wasn't in school, McNamee was usually working or in church.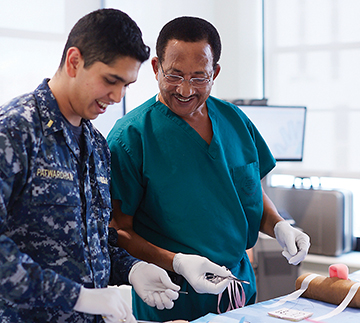 "I was always eager to help and earn money.  I had odd jobs cutting grass, cutting wood and delivering it by the sack load," he said. "A sack of wood from the Bruce Company sawmill was 25 cents. I would hand carry and deliver 25-50 pound sacks of wood. During cotton season, I would pick 300 pounds of cotton after school each day at Mr. Blaylock's farm. I was fast and agile at picking cotton. I made $3 for every 100 pounds. The largest amount I ever picked was 364 pounds."
"I was baptized at the Jackson Chapel when I was 12," he said. "Reverend Batts baptized me near the canal bridge. I attended every Sunday and gave regular speeches at Easter time."
Upon graduation from North Calhoun, McNamee selected Alcorn State University at the recommendation of Eugene Banks.
"He was my 12th grade science teacher. Alcorn was not only close to home, but affordable. I also played drums in the Alcorn marching band. The band had over 150 members marching at every game."
McNamee became the first in his family to graduate from college.
After Alcorn, McNamee attended Tuskegee University School of Veterinary Medicine and joined the U.S. Army in 1974 and retired as a colonel from the veterinarian corps after 28 years.
Upon retirement, Dr. McNamee continued to work as a Clinical Veterinarian at the National Institutes of Health, a Senior Laboratory Animal Veterinarian at Georgetown University, and an Assistant Professor of Surgery and Research Professor at the Uniformed Services University of Health Sciences.
He has served his nation and practiced as a veterinarian for over 40 years.
He has been married to Evelyn Haynes McNamee for more than 44 years, and they have four children.
His two daughters graduated from the Sidwell Friends School, where Dr. McNamee was also the head volleyball, track and field coach.
His daughter Paula McNamee-Young, graduated from Stanford University School of Medicine and is a Board Certified Ophthalmologist.
His other daughter Candace McNamee Novoselnik, graduated from the University of California, Berkeley where she played professional international volleyball for 12 years. She is currently the head volleyball, track and field coach at Sidwell Friends School.
Dr. McNamee's son, George Allen McNamee III, graduated from the University of Southern California, School of Law and is a corporate lawyer for a popular west coast fast food chain "In-N-out Burger."
His son Leonard graduated from Alcorn State University and works as a Civil Engineer.
McNamee said he takes great pride in his family, his upbringing and where he came from.
"I enjoyed my childhood in Bruce. I have fond memories of a community filled with love and support," he said. "I still come back to Bruce on holidays to visit family and friends."