By JOEL McNEECE
The Aqua King and Queen pageant, golf tournament, car show, live entertainment, political speaking, arts and crafts and homemade ice cream are among the many highlights of the 20th Annual Bruce Sawmill Festival set to begin Thursday, July 7.

The Aqua  King and Queen pageant will once again open festival activities on Thursday, July 7 at the Multi-Purpose building in Pittsboro. Registration will begin at 6 p.m. and the pageant at 7 p.m. For more information call 983-4814 or 568-7987.
The Festival golf tournament will kick things off Friday morning at 9 a.m. at Yoda Creek Golf Club with a shotgun start. For more info on the tournament call Yoda Creek at 662-983-9632.
Arts and Crafts vendors will begin setting up on the square throughout the day Friday. Opening ceremonies are planned for 6 p.m. Friday during which all previous Sawmill Festival queens will be introduced. A reception will be held in their honor Saturday in the Bruce Museum.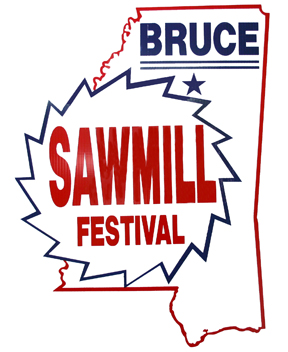 Friday night entertainment includes Lyrix, Without A Doubt, The Bratton Family and The Matt Bollinger Band.
The Bruce Fine Arts Club will be offering their homemade ice cream Friday night and Saturday and the hospitality tent will have a selection of Sawmill Festival hats and t-shirts available.
The Bruce Rotary Club will not be hosting its annual catfish supper at the Masonic Lodge due to the high price of catfish. Instead, the club will be selling chances for a Henry Lever Action 22 Rifle to be raffled off at noon on Saturday.
Saturday highlights include the classic car show, orchestrated by Richard Watkins; live entertainment at the gazebo, including "Calhoun County Youth" and Kim Burt; and political speaking throughout the day from local and statewide candidates. Politicians need to call the chamber office, 983-2222, to reserve a time on the schedule.
Chamber Secretary Faye Morris said the nearly 100 vendor spaces on the square for the arts and crafts have sold out.
"We've had great interest this year in attending the festival," Morris said.
Among the vendors will be the children's area with games, rides and a giant slide on the bank property next to City Hall on North Newberger. Other vendors include leather works, hair feathers, candles, lots of food options and more.
"We're really pleased with the selection of vendors," Festival Chairman Jerry Janci said. "We're looking forward to a great festival."
The Bruce Museum will again host the local art show coordinated by Bethany Lavalley. Any local artist in the county interested in displaying their work, whether paintings, pottery, crafts or anything else, are encouraged to participate. There is no cost for displaying your artwork.
For more information on the art show email Bethany Lavalley at lavalley@olemiss.edu or call 662-414-5914.
The festival is a fundraiser for the civic clubs of Bruce –  Chamber of Commerce, Rotary, Lions Club, Masons, 20th Century Club, Fine Arts, and Grace Club. For more information on the festival call the Bruce Chamber of Commerce at 983-2222.
Sawmill Festival Schedule of Events
Thursday, July 7
7 p.m. Aqua King &?Queen pageant. Registration begins at 6 p.m. Admission is $2.
Friday, July 8
9 a.m. Golf Tournament at Yoda Creek
6 p.m. Opening ceremonies on the square including national anthem sung by Satrina Massey, welcome by Mayor Robert Edward Oakley and 2011 Sawmill Queen Gabby Bearden, and introduction of past Sawmill Queens.
6:15 p.m. Lyrix to perform a variety of music.
7 p.m. Without A Doubt to perform gospel.
8 p.m. Bratton Family to perform gospel.
9 p.m. Matt Bollinger band to perform country music.
Saturday, July 9
9 a.m. Golf tournament gets underway at Yoda Creek, art show opens in the Bruce Museum.
9 a.m. Opening ceremony on square including national anthem by Mamie Tedford and introduction of Aqua Kings and Queens.
9 a.m. Car show opens on northeast corner of the square.
9:15 a.m. Jay Vanlandingham (Constable), Steve Whitten (Representative)
9:30 a.m. Ron Williams (Governor), J.B. Rogers (D2 Supervisor)
9:45 a.m. Max Phillips (Ag Commissioner)
10 a.m. Calhoun County Youth entertain on square and reception begins for past?Sawmill Queens in Bruce Museum
10:30 a.m. Jerry Fleming (Coroner), Jeff Patton (Superintendent)
10:45 a.m. Jim Beckett (Representative)
11 a.m. Mark Ferguson (Justice Court Judge), Kegan Coleman for Marshall Coleman (D8 Senate)
11:15 a.m. Mark Hendrix (Sheriff), Billy Boell (D1 Supervisor), Hudson Holliday (Governor)
11:30 a.m. Greg Pollan (Sheriff), Billy Mac Gore (Sheriff), Mike Moore (Superintendent)
11:45 a.m. Carlton Baker (Circuit Clerk), Lyn Parsons (Sheriff)
12 p.m. Bruce Rotary drawing for Henry Lever Action 22 Rifle, Scotty Collins (Superintendent)
12:15 p.m. Johnny Dupree (Governor)
12:30 p.m. Kim Burt performs country music.
1 p.m. Robert Henry (D2 Supervisor)
1:15 p.m. Mike Winter (Justice Court Judge)
1:30 p.m. Randy Cain (Constable)
1:45 p.m. Joey Jones (D1 Supervisor)
2:15 p.m. Thomas Lee (Goose) Morris (Constable)
2:30 p.m. Dr. Victor Horn (D8 Senate)
This is a tentative schedule subject to change. Political speakers wanting to reserve a time spot or anyone with other questions about the festival should contact the Chamber of Commerce at 983-2222.