Bruce native Greg Maddox, of Tupelo, was recently appointed an Administrative Law Judge. He was recently sworn in during ceremonies in Tupelo and Washington, D.C.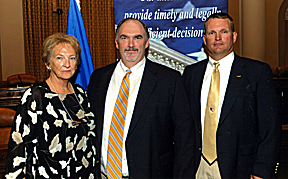 The local swearing in ceremony was held at the Tupelo Office of Disability Adjudication and Review, Social Security Administration. Following orientation and training in Falls Church, VA, a swearing in ceremony at the U.S. Capitol in Washington, D.C. was held July 29.
Maddox, center, is pictured with his mother Joice Maddox, and brother Bryan Maddox, both of Bruce, who attended the Washington ceremony. Chief Judge Jim Fraiser presided over the ceremony in Tupelo. Maddox was admitted to the practice of law in September 1987, and has been employed as a senior staff attorney. He has been an attorney for the Social Security Administration since September 1991. He is also the son of the late Darrel Maddox.