Dec. 18, 2003 – This year I was Grand Marshal of the Bruce Christmas Parade and I had a fine time waving at folks I knew and folks I didn't know who lined the streets along the parade route. You don't get to see much of the parade when you are in it, so you could say the best view we had was the backsides of the Bruce High School Band.
When a spokesman for the Lions' Club, which sponsors the annual event, asked if I would serve as marshal I immediately accepted.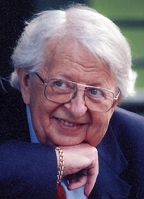 Then I tried to recall previous citizens who had been so recognized and could think of none who are still living. If that was any part of the consideration, I certainly plan to prove them wrong.
Jo Ann tried to convince me it was my popularity that precipitated the honor. Then the next morning a front-page photo in the Tupelo Journal announced that out-going Coach Jackie Sherrill at Mississippi State was to be grand marshal of the Starkville Christmas parade this year.
Her only recourse then was to advise that it would be fun and I should just relax and enjoy it. It was good advice and I took it.
I turned down offers of convertibles and opted to use the nine-year old Mercedes, which has a non-functioning moon roof. Casey Crump was going to use it in the parade several years ago when she was sawmill queen, only to discover during the line-that it didn't work.
I reported it on my next trip to the Mercedes mechanic and was advised that the repair would be around $600. I don't know why it quit working but I do know why it wasn't repaired.
The car was given a super clean-up, with new wax and black stuff on the tires. Daughters Celia and Lisa fashioned posters for each side with glittery letters and shiny fringe. They were attached to the doors, and a large green wreath with a red ribbon was taken off the front fence and wired to the front grill of the car.
So, with me in a red sweater in the front rider's seat, granddaughter Abby Hillhouse at the wheel and Jo Ann in the back seat we left home for the line-up at Highway 32 and McSweyne Avenue.
The parade was delayed a few minutes when the trailer hitch on a pickup with the entire Bruce football team on board gave way. Coach Mark Grubbs' truck was brought to the rescue and the parade began.
At about the half way mark I commented to Abby that I was about to get tired of smiling, when we saw a bunch of people I knew waving at us. The smile returned and stayed until much later that night.