The 46th Annual SquareFest in Calhoun City gets underway this Friday, May 27 with "Movie Night," a 5K glow run, and more, and continues all day Saturday, May 28 on the town square.
The festival, sponsored by the Calhoun City Chamber of Commerce, will open Friday night with the official welcome delivered at 5 p.m.
There will be plenty of food and merchant vendors on the square for all to enjoy leading up to the 8 p.m. showing of the movie "Mercy Rule."
"It's a family-friendly movie, so bring your chair or a blanket and enjoy the night," Chamber President Laura Edwards said.
There is no cost to come watch the movie and free popcorn will be available.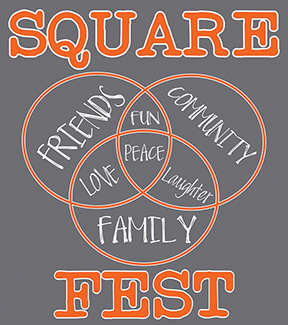 Friday night's musical entertainment will include Friends of Jess Moore, Lyrix, Chris Thomas and an open mic karaoke.
Also Friday night is the 5K Glow Run sponsored by the New Century Club and Cannon Motors with all proceeds going to the Calhoun City Fire Department.
The race will start at the corner of Monroe and Taylor Streets. Registration is $25 for adults, $10 for 12 and under. For info, call Stephanie Lee at 628-6636.
Saturday will kick off with the Lewis Memorial Methodist Men hosting a pancake breakfast Saturday morning from 6-9 a.m. at the Methodist Corner.
The traditional arts and crafts show will be all day Saturday on the square with live entertainment beginning at 9:30 a.m.
The performers include New Life Praise Team, Studio on the Square, Janae Winter, Jessey Higdon, and Good Times Express.
Pryor Funeral Home will host their annual balloon release Saturday at 10 a.m.
Festival t-shirts, designed by Southern Belle, will be available for only $12 at the festival both days. This year's design was created by Calhoun City fourth grader Malayzia Kelly.
Chances will also be sold at the chamber tent on a pair of quilts designed by Calhoun City Elementary School SPICE students.
"We're looking forward to a great weekend celebration and invite everyone to come enjoy the festivities," Edwards said.
For more information contact the Calhoun City Chamber at 628-6990.
SquareFest Schedule
Friday, May 27
5 p.m. Official Opening, vendors and children's games, Friends of Jess Moore perform
6 p.m. Lyrix & Linda Ward
7 p.m. Chris Thomas (Christian rap)
7:30 p.m. Karaoke - Open Mic
8 p.m. "Mercy Rule"  Movie and 5-K Glow Run
Saturday, May 28
6 a.m. Methodist Pancake Breakfast
8 a.m. Arts & Crafts Vendors
9 a.m. New Life Praise Team
9:30 a.m. Friends of Jess Moore
10 a.m. Pryor Balloon Release and  Studio on the Square performers
10:30 Janae Harrelson Winter
11 a.m. Jessey Higdon & the Sharecroppers perform
1:15 p.m. Chris Thomas (Christian rap)
1:45 p.m. Good Times Express