A send-off ceremony will be held Sunday for about 150 members of the 289th Engineer Company (Vertical), based in Water Valley, who are deploying to Afghanistan in June.'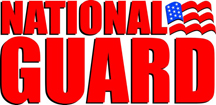 The ceremony will be held at noon at Veterans of Foreign Wars Post 4100 on Mississippi Highway 315.
The National Guard says the soldiers are mobilizing for about a year.
The soldiers will travel to Fort Bliss, Texas in early June to complete its post mobilization training required for deployment.
While in Afghanistan, the unit will be responsible for conducting infrastructure construction and improvement missions.