Margaret and Katherine King, authors of the book "Y'all Twins?" will be the featured speakers at a Brown Bag Luncheon Tuesday, March 26 at noon at the Jesse Yancy Memorial Library in Bruce.
Growing up in 1950's Oxford, the identical twin sisters got away with everything. Their stories begin at age six when they hopped a ride on the back of a wagon driven by William Faulkner.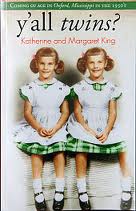 Katherine is an Instructor of Mathematics at the Oxford Campus of Northwest Community College.
Margaret, a former courtroom clerk, is currently in semi-retirement.
Among their life of adventures – surviving Miss America perms, slaying fox stoles and conquering high heel boot camp.
These unique stories of sibling love and rivalry will have you laughing out loud as they take advantage of looking exactly alike. From the first time that they swapped classes, they never looked back.
Join Katherine (the mastermind) and Margaret (the co-conspirator and "cleaner" for the pair) on a hilarious adventure of innocent mischief."
Dessert and coffee will be served. The program, sponsored by Friends of the Bruce Library, is free and open to the public. Call the library at 983-2220 for information.