Exactly 66 years from the day of his death in World War II, Corporal Judge Clayton Hellums was laid to rest in his native Calhoun County last Saturday before a large gathering of family and friends in Shady Grove Church Cemetery.

Cpl. Hellums was killed with four of his comrades on Oct. 9, 1944 in Lorraine, France, by a German rocket that hit his M10 tank destroyer. The U.S. Government listed Cpl. Hellums as "missing in action" until a few years ago, when Gerard Louis discovered part of Cpl. Hellums identification tag in France's Foret de Parroy.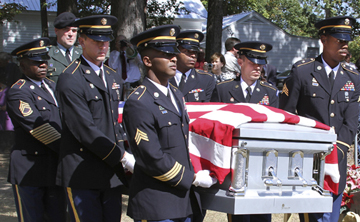 "All (my parents) knew was he was missing in action," Dwight Hellums, one of Clayton Hellums' four surviving siblings told the Commercial Appeal. "He volunteered for this mission. His superiors knew he'd gone in there on that mission, and why they listed him as missing in action is something I've never understood."
Louis, who lives in Chantehoup, France, first found the tag in 2003 on one of his daily walks. He spent three years trying to track down the family before ultimately achieving success in 2006. The Calhoun County Journal first reported on Louis' discovery and initial contact with the Hellums family on April 20, 2006.
Later searches by Louis led to the recovery and identification of remains of Cpl. Hellums and two other crewmen in the tank. Excavations of the area resulted in more finding of remains, which were taken to a Hawaii laboratory. There, testing matched DNA samples provided by two Hellums siblings.
Sixty-six years after his death, more than seven years since Louis' first discovery, Cpl. Hellums remains were returned to the U.S. mainland.
"As Flight 2575 taxied to the gate Friday (Oct. 8), passing baggage handlers who had hands over their hearts and a fire engine offering an honorary dousing, Dwight Hellums knew it was time, after 66 years, to welcome his big brother home," the Commercial Appeal reported.
The cargo bay of the Delta Air Lines DC-9 opened, and a pallet containing the remains of Army Cpl. Judge C. Hellums emerged. Moments later, the 89-year-old Dwight Hellums walked slowly up to the flag-draped coffin of his brother and stood in silent salute.
"It's very emotional," he said as the ceremony at Memphis International Airport ended.
A military honor guard carried the flag-draped coffin into the Shady Grove Cemetery Saturday at noon. Following a 21-gun salute and the playing of "Taps," soldiers neatly folded the American flag and presented it to the Hellums family.
Billy McCord, pastor of Shady Grove United Methodist Church, began his remarks at the gravesite calling it a "bittersweet day."
"We can't help but feel a little sad, considering how long it's been - 66 years ago today - that Clayton gave his life for this country," McCord said. "We're also delighted that his earthly remains are back in the United States of America and in this place he loved so much – Calhoun County."
Cpl. Hellums was engaged to a young woman named Martha when he was killed in France. He met Martha while he was stationed at Camp Atterbury, Ind. Her name was engraved on the back of the ID tag found by Louis.
Harriet Wright, a niece of Cpl. Hellums, read a letter at the grave site from Martha, who married another man after Hellums' death, but kept in touch with his family.
"Sixty-six years ago, the man that I loved and wanted to spend a lifetime with was taken from me during the horror of war," wrote Martha Doolie. "This loss not only changed my life completely, it changed the lives of all those who loved him."
After the short dedication service, Dwight Hellums recalled his last visit with his eldest brother. Dwight, a Marine who would narrowly survive Guadalcanal and several other major Pacific battles, was about to ship out of San Diego. Given 36 hours' leave, a friend drove him deep into the California desert, where Clayton's unit was encamped.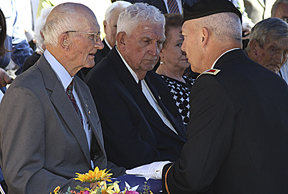 The long, arduous drive meant a short but priceless visit.
"We got to eat breakfast with him, and that was the last time I ever saw him," Dwight Hellums said. "We had a very emotional visit."
Judge Clayton Hellums was one of eight children of Lillie and Grady Hellums. The family's origins are in Pontotoc County, just across the Calhoun line. After several moves, the family settled in the area northwest of Sarepta where Lafayette, Pontotoc and Calhoun counties converge.
Dwight Hellums and his brother Judge were so close growing up that when Judge was drafted in April 1941, Dwight tried unsuccessfully to sign up for the same Army unit.
"My brother was a fine Christian man," Dwight said. "Everybody loved him."
Four years ago, Dwight and family members traveled to an American cemetery in Saint Avold, France, where his brother's name is inscribed in a tablet listing the missing.
At the same time as Saturday's service at Shady Grove, a similar commemoration was being held by mourners in Europe.
"Right now it's 7 o'clock in Lorraine, France," Larry Hellums said after the short noontime memorial. "Out in the Foret de Parroy, where my uncle was found, there's a group of Frenchmen kneeling in prayer right now."
On Friday, Cpl. Hellums received "the proper burial he deserves," Army casualty assistance officer Capt. Thomas Howell said.
He was buried in a plot next to one reserved for the younger brother who idolized him.
"We are glad to have him back home," Dwight Hellums said.
EDITOR'S NOTE: This story was compiled from an article by Tom Charlier in the Commercial Appeal of Memphis, Errol Castens' story in the Northeast Mississippi Daily Journal, and stories by Joel McNeece in the Calhoun County Journal.