Jack Wright has been named the 29th head football coach in Northwest history, president Dr. Gary Lee Spears announced late Monday afternoon.
"I'm extremely excited, but at the same time understand the challenges that go along with the job," Wright said. "This is a very competitive league with great players and coaches you'll see week in and week out. I believe that Northwest can compete in the long run with anybody. I'm ready to get my staff in here and elated to be a part of the Ranger family again. It feels good to be home."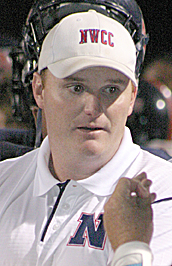 Wright, 36, is the second-youngest head coach in the program's 84-year history and this will be his first stop as a head coach in Senatobia.
Wright spent last season as the offensive line coach at Holmes, but is no stranger to Northwest. The Batesville native was the Rangers' offensive coordinator from 2008-12 and guided one of the most prolific offenses in the nation during the five-year stretch. Northwest ranked in the Top 5 in the country in total offense at 434.1 ypg in 2012 (3rd in the NJCAA) and 485.4 ypg in 2011 (5th).
"We are pleased and excited to have coach Wright re-join the Northwest football program, this time as head coach," Spears said. "Coach Wright is an experienced coach who is familiar with all aspects of our College and is a proven winner who will bring our program back to national recognition."
Since his arrival in 2008, Northwest nearly doubled its scoring and gained close to 150 yards more per game. The most significant improvement was in the running game, where the Rangers averaged 196.6 ypg in 2012 and 205.5 ypg in 2011, which ranked second in the state behind Gulf Coast and sixth in single-season school history.
The Ranger offense ranked in the Top 25 nationally in each of Wright's previous five seasons and made a steady climb from 22nd in 2008 up to third in 2012. Northwest led the country in 2009 in both passing yards/game (323.0) and touchdown passes (27), with standout quarterback Casey Weston being named a top MACJC Offensive Performer eight times and breakout receiver Michael Lindsey earning NJCAA First Team All-American recognition.
All told, Wright has had the privilege of coaching 22 All-MACJC selections in his time at Northwest, including seven NJCAA All-Region 23 selections and four NJCAA All-Americans.
Prior to Northwest, Wright was at NCAA Division III Millsaps College, where he was the offensive line coach, run-game coordinator and strength coach from 2005-07. Wright's presence at Millsaps helped turn around a program that won only two games in 2005 and went on to win back-to-back Southern Collegiate Athletic Conference Championships his final two seasons, including the program's first playoff berth in 31 years.
He was part leader of a Millsaps offense that averaged 39.7 points and 458 yards per game in 2007 and led the conference in nearly every offensive category. A season earlier under Wright, the Majors' offensive line gave up a league-best seven sacks in 10 games which ranked fifth nationally out of 229 teams.
Prior to Millsaps, Wright was the offensive line coach and power lifting coach at Meridian High School from 2002-04. Under Wright, Meridian produced four 1,000-yard rushers in three seasons and improved from 3-8 in 2002 to 8-4 in 2003 and 11-2 in 2004. Wright also spent one season at North Delta Academy in 2001.
Wright earned his bachelor's in management information systems in 1999 from Arkansas State University and went on to obtain his master's in business administration in 2001. He started all four seasons for the Indians at deep snapper and center from 1997-2000.
Wright is married to the former Brooke Lummus of Batesville, and the two celebrated their five-year wedding anniversary in February of 2013. They have a 2-year-old son, Mason James Wright.
Wright replaces Brad LaPlante who was fired after a 1-8 season in his first year. It was the Rangers' worst finish since 1950 and just the second losing season since 1981.