Barrett Wooten, of Bruce, sophomore third baseman for the Mississippi Delta Community College Trojans baseball team, was presented with the J.D. Stonestreet Award during Awards Day.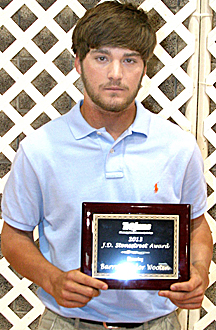 The Stonestreet Award goes to the male athlete who best exemplifies the qualities of the student athlete at MDCC.
These include leadership both on and off the field as well as success in the classroom and on the playing field.
This award is the highest honor given to a male athlete by the college.