By JOEL McNEECE
What was a tight game at 13-12 got away from the Calhoun City Wildcats as a mistake-filled third quarter allowed JZ?George to pull away for a 31-18 victory.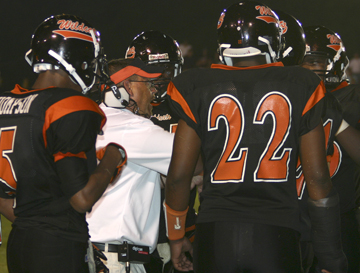 The loss dropped the Wildcats to 2-4 on the season.
"We did some good things,"?Calhoun City Coach Perry Liles said. "We just had a terrible third quarter and never recovered."
The home Jaguars blocked a punt, recovered a fumble and intercepted a pass on the first three possessions of the second half to break things open.
Senior Jaguar tailback Antonio Partlow was the player of the game, Liles said. He gained 143 yards on 17 carries, with two rushing touchdowns, scored another on the blocked punt and kicked an extra point.
The Wildcats did have some success offensively. QB?J.R. Jennings had his most productive night completing 19-31 passes for 227 yards and three touchdowns. The scores came on passes of two and five yards to Demarius Howard and a 28-yarder to Raheem Roberson.
"We moved the ball," Liles said. "We just didn't score as much as we should have."
Turnovers gave the Jaguars a short field for all of their scoring opportunities. JZ?didn't complete a pass all night and Wildcat Aaron Thompson intercepted three of their 11 attempts.
Liles said Avery Hill also had a strong game in the secondary in addition to rushing for a team-high 85 yards. Howard added 44 yards rushing and 83 yards receiving.
Rokedrick "Turkey" Mays led the defense with five tackles.
The Wildcats open region play this Friday at  defending state champion, but winless Baldwyn. Kickoff is at 7 p.m.