By JOEL McNEECE
Hamilton's Chase Reeves limited the Calhoun City Wildcats, 4-8, to only two hits as the Lions earned an 8-0 victory last Tuesday.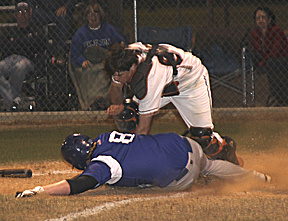 Brooks Goodson took the loss for the Wildcats.
Rainer Nichols' double was one of the Wildcats' two hits.
Hamilton visited Calhoun City Friday and went home with a 10-0 victory this time.
Raheem Robertson took the loss for 'City. Eric Childs pitched in relief.
Joshua Warren hit a double for the Wildcats. The other 'City hits were all singles by Rainer Nichols, Brandon Lovorn, Cyle Havens and Ryne Lee.
The Wildcats rebounded with a 19-1 win over Houlka on Saturday. Joshua Warren was the winning pitcher. Multiple hitters were Brandon Lovorn, Joshua Warren and Ryne Lee with three each. Rainer Nichols, Raheem Roberson, Colby Havens, Cyle Havens, Eric Childs and Colin Gaskin each had one hit.
They were later defeated by Eupora 10-6. Colby Havens suffered the loss. Nichols and Warren each had two hits.
Calhoun City will host Hatley Friday. JV?game at 5 p.m. and varsity at 7 p.m. They play Starkville and Caledonia on the road Saturday.