A Water Valley elementary school principal and her son were found dead in their home in Oxford early this morning.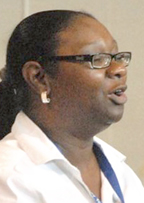 Dr. Carol Lavett Gary, 43, principal of Davidson Elementary, and her 12 year old son, Patrick Earl Gary, Jr., were both shot to death at their home at 292 County Road 301 in the South Oaks subdivision around 6 a.m.
Patrick is a student at Oxford Middle School.
Reports are that Oxford Police Dept. has a person of interest, a family member, in custody.
Yalobusha County Sheriff Lance Humphreys said that the shooting does not present a threat to the school and he is assuring parents that their children are safe, according to the North Mississippi Herald in Water Valley.
(Photo courtesy of the North Mississippi Herald, Water Valley)