Levarious Varnado can't get enough of Friday nights in the orange and black. The senior running back at Calhoun City has scored a team-high 12 touchdowns this season while also being among the team's defensive leaders in tackles, pass breakups and fumble recoveries.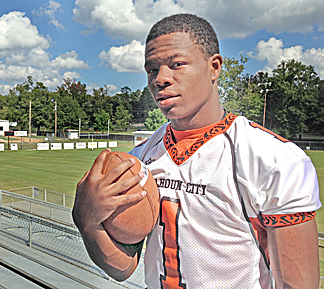 "I love the excitement, the feeling you get when you strap on the shoulder pads and prepare to play on Friday night," Varnado said. "I love the competition, the drive, the fun you have being with your teammates and coaches. I just love football."
Being part of a team is one of his greatest passions relating to the game.
"When something bad happens and the team comes together as one and you overcome it together, that's what I enjoy most," Varnado said.
He plays on both sides of the ball and said he really can't pick a favorite.
"I just like making plays," Varnado said.
That's something he's done plenty of over his career. The most memorable of those plays came in the 2012 matchup with rival Bruce.
The Wildcats trailed 14-7 in overtime when Coach Perry Liles turned to Varnado on back-to-back plays. He first scored the touchdown and then punched in the two-point conversion for the 15-14 victory.
"That was something I won't ever forget," Varnado said.
As he hits the home stretch of his senior season, Varnado still has eyes of a trip to Jackson.
"I just want to be the best player I can be for my coaches and teammates," he said. "Hopefully I can bring enough hard work and leadership to help lead us to a state championship."
Whether Varnado makes an appearance in the state championship game this December remains to be seen, but he has locked up a position in the Bernard Blackwell All Star Game in Gulfport on Dec. 21.
"I was very excited to get the news," Varnado said of the all star selection. "It makes me want to go work even harder."
When his senior season does come to an end, Varnado said there will be plenty he will miss about playing football at Calhoun City.
"I'm going to miss the orange and black, the Fridays, all the fans, going over the game plan with the coaches. I'm just going to miss it all."