By JOEL McNEECE
The Vardaman Rams came home from Okolona Thursday night with a 28-0 win over Houlka, despite what Coach Justin Hollis described as an "awful" performance by their offense and a fight in the fourth quarter that will prevent at least two Rams from playing next week.

Vardaman had dominated the game, leading 28-0 with 8:45 remaining in the fourth quarter when a facemask-tackle (pictured) of the Houlka quarterback by Cody Jenkins sparked a brawl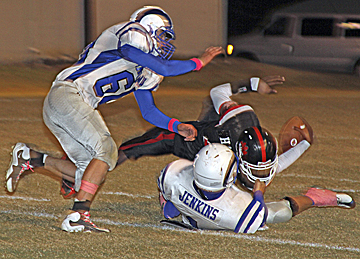 in the middle of the field. Players from both teams had exchanged words throughout the physical game leading up to the fight.
"I was proud of my guys for staying on the sideline," Coach Hollis said. "My whole team stayed on the sideline and their whole team rushed the field. We've got more to lose. The kids knew that and they stayed. It was a heck of a way to end the game."
After the fight was broken up by coaches, parents and a few law enforcement officers, Coach Hollis sent his players to the buses behind the south end zone while he met with officials at midfield for approximately 15 minutes.
"We have two ejected that I know of, that I know who it is (linebacker Jamie Jenkins and lineman Keon Neal)," Coach Hollis said. "They won't get to play next week. That's the way it is. You throw a punch, you don't get to play."
Official word on the suspensions and if there are others won't be known until early next week.
Prior to the fight, the Vardaman defense had been dominant. Houlka had managed negative seven total yards at the time the game was stopped.
"Defensively, we played well," Hollis said. "We shut them down and played well. That's what I was proud of."
It was the fifth straight shutout for the Rams. Only Falkner has managed to score points on the Vardaman defense in the region.
Offensively, it was more of a struggle.
"Awful, pitiful," Hollis said of the offensive performance. "One of the worst games we've played all year."
Lavorris Hatchett and Cody Jenkins accounted for virtually all of the offense. Hatchett rushed for 99 yards and a touchdown. Jenkins totaled 93 yards and two touchdowns.
Freshman RB Jaqwaves Armstrong rushed for 26 yards. Jenkins completed 3-9 passes for nine yards and an interception.
The other score in the game was the most exciting play of the night – a 68-yard interception return for a touchdown by Donta Walker just before the half.
The Rams, 6-2 overall and 6-0 in region play, are scheduled to host TCPS in the final regular season home game next Friday before concluding the regular season Nov. 4 at Thrasher.