The Vardaman Rams found themselves in a shootout with visiting H.W. Byers and escaped with a 50-48 win to remain unbeaten in Region 1-1A.
Donta Walker made the biggest plays for the Rams down the stretch  – scoring the go-ahead touchdown and then intercepting an H.W. Byers pass in the closing minute.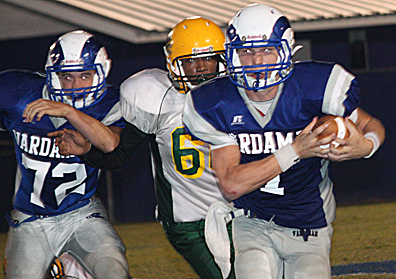 "They're a really talented team and we gave them too many opportunities," Vardaman Coach Justin Hollis said.
The Rams jumped out to a 15-0 lead after the opening quarter, but saw Byers storm back to score 28 second quarter points and enter the half leading 28-23.
"Once we got up I thought we relaxed," Hollis said. "And Byers never quit. You have to give them credit."
A lot of the credit for H.W. Byers goes to senior Trelorenz Stephen and sophomore Marquis Moore who each rushed for 186 yards and combined to score all seven of the Lions' touchdowns.
"They're fast," Hollis said.
The Rams were led once again by senior RB Donta Walker who carried 17 times for 154 yards and four touchdowns. One of those scores came on an interception return.
Ram QB Cody Jenkins completed seven of 17 passes on the night for two touchdowns. Ta West and Brady Pendergraph had the two touchdown receptions.
West and Quon Cummings led the receivers with two catches each.
Mack Armstrong led the defensive effort for the Rams with eight tackles, two sacks and a fumble recovery.
Cody Smith added nine tackles and Davien Walker eight. Cody Jenkins and Kent Casey each had sacks.
"We still haven't taken care of ourselves for four quarters," Hollis said. "We've got to put a full four quarters together."
The Rams will step out of region play this Friday and travel to 2-3 Coffeeville. The Pirates are coming off back-to-back shutout victories over Durant and Montgomery County.