It's not hard for Brandon Walker to recall his best play of the year. It was his last one.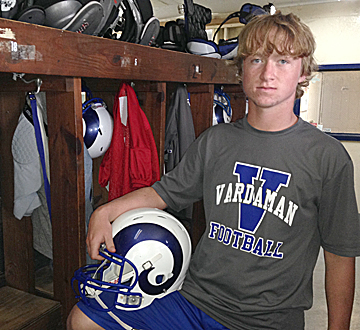 "With about 45 seconds left in last week's game at Thrasher I threw a touchdown pass to Kent (Casey)," Brandon said. "If I had thrown it anywhere else it would have been incomplete. It was like the perfect throw."
The excitement of a "perfect throw" for Vardaman's sophomore quarterback is still rather new. The entire game is new to Brandon.
"We moved from Calhoun City to here last year and I thought it would be a good opportunity to start over," he said. "I had thought about playing football and this was the right opportunity."
Coach Larry Gann's Rams returned few starters this season and nobody on the roster had taken a snap at quarterback in a varsity game. Brandon earned the starting nod in preseason practice and has been learning the position with every passing week
"Starting off it was pretty hard, but it's getting easier," Brandon said.
A component that makes the learning process easier is Brandon's love for practice.
"I do like practice," he said. "Practice makes you better."
Despite his inexperience at the position, Brandon is aware of the demands.
"There's a lot of pressure on me as the quarterback," he said. "You have to make the right play every time and lead your team to victory. We're getting close. I believe we'll get it if we just keep playing hard."
The Rams have had a tough start to the season as they are still searching for their first win after six games.
"It's hard not winning. We all want to win," Brandon said. "We're just going to fight through it until we get the W."
Brandon said he isn't discouraged. If anything he's excited about the Rams' future.
"We have a lot of potential to be real good the next few years," he said. "That motivates me to work even harder on the practice field, give it everything I've got to get better."