The Vardaman Rams, champions of Region 1-1A for the second consecutive year, completed regular season play with an emphatic 37-0 win over visiting Thrasher Thursday night.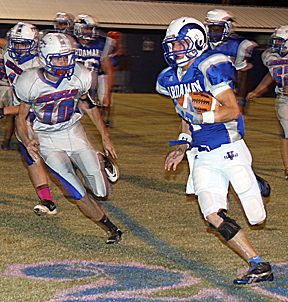 The Rams, 8-3 overall and 8-0 in region play, will begin post season play next Friday, Nov. 9 at home, likely against Coffeeville depending on Friday night's results.
"I'm proud of you for what you've accomplished, but it's only a start," Vardaman Coach Justin Hollis told his team after the game.
The Rams, who lost to Shaw in the Class 1A North Half Championship last season, are aiming for a North title this season and the school's first trip to Jackson.
"We're just going to keep preparing every week to get to where we want to be," Rams' Senior RB Donta Walker said. "We've got to believe in each other and we can accomplish everything."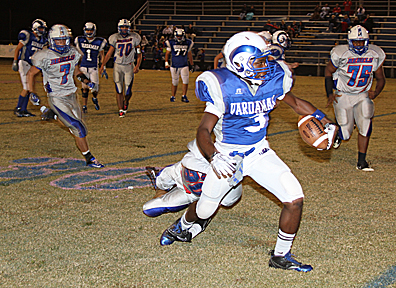 "I think we believe more this year," Rams' Senior QB Cody Jenkins said. "We're healthy. Our offense is starting to click at the right time. We believe in ourselves. I think that's going to help us a lot."
The Rams didn't need much help Thursday night against Thrasher. They scored on all but one possession in the first half.
The Rams' first possession began at their own 14-yard line. Three runs by Jenkins and they were at the Thrasher 20. On the next play, Jenkins hit James Avant with a touchdown pass. A successful 2-point conversion and it was 8-0 just over three minutes into the game.
The Rams' next scoring drive covered 67 yards in two plays. Jenkins passed to Ta West for 45 yards and then Walker carried it 22 yards for the touchdown on the next play.
Jenkins followed up a 27-yard pass to Lakreston Ewing with a 3-yard touchdown run on the next drive for a 21-0 first quarter lead.
The next drive was the only one that didn't reach the end zone. It came up three yards short when Dillon Landreth fumbled. But three plays later Mack Armstrong broke through the line and tackled Thrasher's Logan Dodds in the end zone for a safety.
"I saw the hole and he was right there so I went and got him," Armstrong said.
Jenkins, who completed 11-16 passes for 215 yards and three touchdowns, would hit Walker with a 5-yard score and Avant from 55-yards away for the final two first half touchdowns.
The Rams led 37-0 at the half. The clock ran non-stop in the second half and the defense upheld the shutout for the final.
"This was a good win for us. We finished it off, 8-0, heading to the playoffs,"  Jenkins said. "The big thing now is to stay focused."
"We came this far. We're going to finish it," Armstrong said.