By JOEL McNEECE
The Town of Vardaman has been awarded a $27,499 grant from USDA Rural Development to make significant improvements at the Dr. J.S. Edmondson Memorial Library.

Among the improvements planned for the library are a new paint job for the exterior of the building, new computers, updating the children's section, new non-fiction books added to the collection, a new water fountain, new office equipment, new library furniture for reading areas, and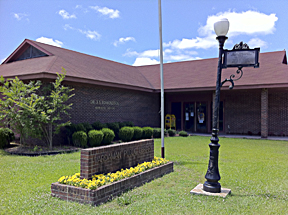 improvements to the heating and air conditioning system.
"This is a tremendous gift for our library that will help us to better serve our community," said Vardaman Librarian Janet Swindle.
Vardaman Mayor James Casey said the town has worked for well over a year to secure the grant that will have a significant impact.
"The library is an important asset for our people and this project will greatly enhance its ability to meet their needs," Mayor Casey said. "We're very grateful to USDA and the assistance provided by the Dixie Regional Library Association."
U.S. Agriculture Secretary Tom Vilsack recently announced the awarding of the 17 projects, including Vardaman's, to improve the quality of life in rural communities across Mississippi.
"USDA's support for these projects reflects our commitment to ensuring that rural communities can create jobs, attract businesses and provide necessary services to their residents," Vilsack said. "USDA Rural Development continues to work with rural communities to help them develop quality health care services, modern library facilities and school buildings, and reliable first responder equipment and services to ensure that people who live in rural areas have access to critical infrastructure."
"To say that Mississippi got its fair share of the funding announced today would be an understatement," said Trina George, State Director for USDA Rural Development in Mississippi. "My appreciation goes to the Obama Administration and to our state's congressional delegation, as well as to each of the local community leaders that my staff and I worked with to pursue this funding."