The Vardaman Lady Rams will open the Class 1A playoffs this Friday against Ingomar.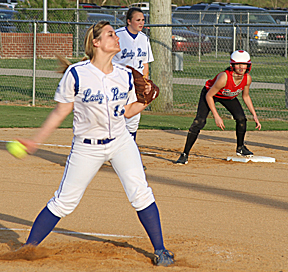 The Lady Rams will play at Ingomar Friday at 5:30 p.m. and return home Saturday for games two and three of the series beginning at 4 p.m.
The Lady Rams defeated Houlka 5-2 Monday night after falling behind 2-0 in the first inning.
Pitcher Grace Edmondson allowed only one hit in the win. Laken Lucius led the Vardaman offense with two hits and three runs batted in.
The Lady Rams, 11-12 overall and 4-2 in region, were scheduled to complete their regular season Tuesday at Tremont.
"We just need to hit the ball," Vardaman Coach Billy Dill said. "We haven't hit as well as we would like. We need to be better in the playoffs."