The town of Vardaman will host its annual Cleanup Day on Saturday, Oct. 19.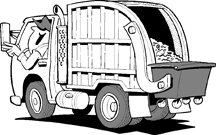 The town will provide two 40 foot dumpsters at the water department to collect items that citizens want to discard that normal garbage pickup won't accept. The dumpsters will be available from 8 a.m. until noon.
Items accepted at the collection site will include old furniture, washers and dryers, tree limbs and brush, appliances with proof of freon removal, household and tool shed garbage.
Items that cannot be accepted are batteries, appliances with freon, unemptied paint cans, tires, used oil, TVs, and computers.
Elderly citizens may call City Hall at 682-7561 to get help with picking larger items up.
Only citizens living inside the town limits and paying a monthly $15 garbage fee are eligible to participate in the cleanup.
Items from residents outside of Vardaman will not be accepted.