Calhoun County teams opened the playoffs Thursday night with two and a half wins. The Bruce Lady Trojans and Vardaman Lady Rams delivered resounding victories to take command of their series. But a thunderstorm haulted the Calhoun City Wildcats game half way through with them holding a 5-0 lead.
The lightning first flashed a few minutes after 7 p.m. with the Wildcats leading Riverside 5-0 in the top of the fifth. The game was three outs away from becoming an official game.
The lightning never relented and the game was officially called at 8:30 p.m. The teams will resume the game from where it left off today at Riverside, just south of Greenville, at 5 p.m. Game two will immediately follow.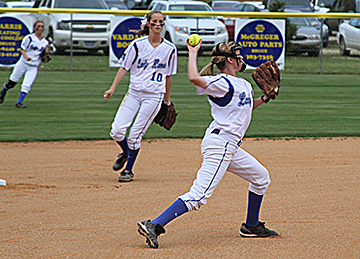 Chakel Gates was pitching for the Wildcats and had allowed only one hit through the first four innings.
The Vardaman Lady Rams finished their game in only five innings ahead of the rain, routing Myrtle 10-0. Grace Edmondson earned the win allowing only one hit from the Lady Hawks.
Laci Jo Fugett and Anna Beth Lucius each had two hits for the Lady Rams who will play game two today at Myrtle beginning at 5 p.m. If a game three is necessary, it will be played immediately after.
The Bruce Lady Trojans also made quick work of Coahoma winning 12-1 Thursday to take a 1-0 series lead. Game two will be played at 4 p.m. today at Bruce Park. Game three would immediately follow if needed.